AT's vertigo-stricken Aimee Chanthadavong takes flight with Sydney's first central hot air balloon service at Homebush
Up! Up! And away!



Third time lucky, weather has finally permitted AT's Aimee Chanthadavong to take a flight aboard Sydney's first (reasonably) central ballooning service. Now you don't have to go to Canberra or the Hunter Valley to take to the skies – it can all be done at Homebush, thanks to Balloon Aloft . . .
Words and images by Aimee Chanthadavong
Against the cold morning chill in the wee hours of a fine spring Friday, when the gorgeous sunrise is just peeking over the horizon, my heart is racing and my knees feel like they're going to buckle. But before I know it I'm nervously standing in a basket no bigger than a toilet cubicle and floating 5000ft – just over 1.5km – above the ground. Oh, and did I mention I'm afraid of heights?
This is my third try at taking to the skies with Balloon Aloft Sydney, Australia's most experienced hot-air ballooning tour operator, for their new mid-week services running from the five-star Pullman Hotel at Sydney Olympic Park, Homebush. However – and this is certainly not helping my fear of heights – hot-air ballooning is highly weather dependent. If there's even a slight hint of foul or inclement skies, the safety conscious team at Balloon Aloft will pull the pin.
This morning, however, skies are clear and senior pilot, manager and son to the owner of Balloon Aloft Australia, Matthew Scaife, is leading me and a Singaporean couple, Simon and Wendy Teng, from our take-off position in the southwestern suburb of Parklea on a one-hour journey across Sydney.
"There's never a predetermined route on where we fly," says Scaife, who's originally from the UK and has been flying planes and balloons for almost ten years. "It's wherever the wind takes us. No morning is the same – which keeps things interesting for us and our passengers."
Admiring the breathtaking view, we watch the remainder of the sunrise from a height I'm simply not used to experiencing. My fears are quickly forgotten. Instead, I enjoy the disappearance of the scattered morning fog slowly etching away to reveal suburban Sydney and its buzzing peak-hour traffic below.
"There certainly isn't much traffic up here," chuckles Scaife.
There certainly isn't. In fact, there's nothing up here but a vast blue sky. It's a whole new world – where everything is simple, serene and silent. The only thing we can hear at this height is the occasional flaring of gas that's keeping the (ahem) balloon aloft – and the muffled cross-chatter of voices emerging from Scaife's walkie-talkie.
Squinting hard, we're just about able to pick out the Blue Mountains peeping over the horizon to the west. Looking the other way, almost lost in the distant orange haze, we catch a glimpse of Sydney's cityscape, with Centrepoint Tower smack-bang in the middle and the Harbour Bridge just to the left. The glinting ribbon of the Parramatta River lies between me and the city, and while I know that the degree of pollution is bordering on ghastly – somehow made more visible with the early morning sun making its way up the sky – a part of me can't help but find it beautiful.
It's then that Scaife decides to show us what this balloon of his can do. He gradually takes the balloon down closer, closer, until I can almost touch the treetops. "There are some pilots who like to just stay up high," says Scaife. "But I like to keep things interesting." We've gone from being up so high that everything below looks like a tiny army of ants, to waving hellos to people in their backyards enjoying their morning coffees.
After slowly descending into Parramatta Park, we're picked up by Scaife's partner, Nicola Cronin, marketing manager and crewmember of Balloon Aloft Sydney, in their four-wheeler. We make our way back to our original meeting point at the Pullman Hotel where we're left to enjoy a scrumptious champagne breakfast buffet at our own pace.
And for that added touch of leaving with a tangible souvenir, each person is awarded a certificate for being a good sport and flying with Balloon Aloft Sydney.
Organised by Scaife and Cronin, Balloon Aloft also offers weekend services in Camden, but thought that expanding to Homebush would be more convenient for those living close to the CBD. "We want Sydneysiders and tourists to be able to see the city and thought Homebush would be the perfect place to do it," Scaife says.
Details // With Christmas right around the corner, Balloon Aloft gift certificates are a terrific idea and, from Homebush, start at $275 per person. Champagne breakfast is available for an extra $30 per person. Check out www.balloonaloftsydney.com or 1800 028 568 for more.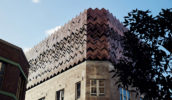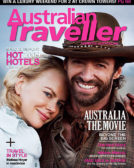 Enjoy this article?
You can find it in Issue 24 along with
loads of other great stories and tips.