Distinctly non-revhead Quentin Long is thrown into the deep end of a V8 drive day – and gets just a tad excited…
When I tell people I did the V8 drive day, I start to sound like Meg Ryan in When Harry Met Sally. The rapid fire questions that come back at me are answered in increasing excitement… Yes, yes, yes, ooohhhhhh, yes, yes, and yes. In particular:
Yes, I loved it.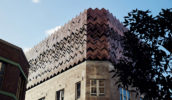 Yes, I did drive fast.
Yes, I actually drove the car.
Yes, the car is almost identical to a V8 Supercar.
Ohhhh, yes, I want to do it all again.
Yes, it was worth it.
Yes, even for a non rev-head like me, I loved it.
Yes, your husband, wife, mother or granny will love it – just to shake up the ordinary.
So for all those 'casual internet readers', i.e. those with the attention span of a gnat, that is all you need to know. Go straight to the video. For the rest of you, read on for some more specifics.
Like most of these experiences, it was a gift from the wife celebrating the end of one mid life decade and the beginning of the next. For the record, I don't give a stuff about cars, never watch a V8 Supercars race and rarely will endure an F1.
So I was curious to see who else would be with me on the drive day atSydney's Eastern Creek. Would there be the Ford and Holden lovers? Yes, but it was the 70-year-old nanna that threw a spanner in those stereotypical works.
In reality, the majority were people like me. Blokes with a mid-life spread who just wanted to drive fast, interspersed with women who wanted to do something different or loved cars themselves. Interestingly the cars in the car park ranged from Hyundais to Monaros. It was not a rev head place of worship. So what actually happens?
The briefing
About 40 people take part in the three-hour session. Once suited up, a briefing from the instructors (professional race car driver themselves) and the owner of the company:
Expect your professional race car driver instructor to grab the steering wheel

How to overtake

You can only use third and fourth gear

Unbelievably, if you haven't driven a manual, they will teach you

It's about traction and braking to go fast
The other half of the time it is the world's greatest up-sell
Buy more laps (definitely worth it)

Buy a helmet that your instructor can sign (ah, really?)

Buy the DVD (well, are you going to bore anyone else with it?)

Friends and family buy a hot lap (see below)
The other key element is when the instructors introduce themselves. They each spend three minutes showcasing their experience, prowess and key achievements behind the wheel, trying to outdo the other drivers. The gags are top-draw dad jokes – one driver takes the microphone, forward rolls and says "that's how I roll", for example. In reality they act like the warm-up guy at a TV show, keeping the crowd laughing and excited for the big show.
The Drive
Yes, yes, yes – baby, yes! Every face getting out of the car was beaming (even the 70-year-old nanna). The only downside was that I wanted to go faster. The track is marked with helpful instructions like 'lift' and 'brake', positioned for the safest possible, insurance-friendly drive experience. But they were a little too sedate for my liking. I ignored them a little and still wanted to (and could, he says convincingly) go faster.
The Hot Laps
Okay, my instructor was excellent, even if I wanted to smash his hands off my steering wheel. But the hot laps were a little disappointing. I was expecting to be scared, really scared, but in reality, it was like being a passenger… in a car… on a race track… driven by a professional.
And for proof, check out the edited DVD noting (well, I have pointed it out for you) how fast we both went down the straight. Almost identical speeds. Just sayin'. Red Bull, you know where to find me.
Quentin was a guest of Fastrack Racing