Georgia Rickard went behind the scenes of new hotel brand Atura before Tuesday's grand opening.
New hotel brand Atura officially opened its first hotel on Tuesday, but before the relatively smooth opening day, a team of up to 65 people has been preparing for months.
"It's been quite a big lead up," says Geoffrey York, director of operations and development. "The hotel has been under construction for the last 18 months, we've had a pre-opening team in place for the last three months, sales activity started two months ago and we launched the website on the first of September.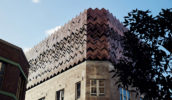 "It takes an enormous amount of effort and planning to open a hotel and coordination with suppliers to get the hotel ready and open."
The hotel, located at the western Sydney suburb of Blacktown, is the first of a series that parent company, AHL (Amalgamated Holdings Limited), intends on opening across Australia.
The company also owns the Art Series, QT, and Rydges hotel brands and, though no specifics have as yet been revealed, "we are now looking at moving ahead with refurbishment and rebranding of several Rydges hotels," York confirms.
In the past 24 hours they have reportedly also had two enquiries from developers interested in the Atura brand for their projects – "which is a nice surprise, but also not a surprise, as we're offering something different to what else is available in the area."
The Atura brand, loosely based on its premium big sister brand, QT, positions itself as a four-star offering with personality.
Nic Graham designed the public spaces and room interiors , which feature floor to ceiling curtains, ceramic black owl ornaments and an oversized painted yellow spot on the ceiling. Hotel stylist and consultant Anna Roberts is responsible for the ornaments in the hotel.
As per QT, the mini-bar also includes a few unexpected extras, adds York: "popcorn in special packaging, iced tea, nachos that you can pop into your microwave, as well as all your old favourites."
When Australian Traveller took a tour behind the scenes in the lead-up to the hotel's launch, the property was a hive of activity and half-finished rooms, with mattresses specifically commissioned for the Atura brand being installed into each room.
But a huge amount of effort is required to even get to that stage, says York.
"To agree on the layout of the suites – and there are 122 rooms – that took us a long time," he says.
The bespoke wallpaper artwork in each room alone took around six months to perfect.
"This happened before I joined the project, but I've been told many times that it took several designers ochver a six-month period to agree on the selection of images used in the wallpaper, and then on layout of where each image was going to go on it," he says.
Even AHL's Group Managing Director, David Sargent, was reportedly involved in the process, giving a similar level of attention to this development as he did with premium designer hotel brand QT. The hotel also held a pre-opening dress rehearsal.
"The day before opening we invited people from the local community to come in and experience lunch at the restaurant for free," York says.
So how much coffee has been drunk over the past few months?
"Coffee or Panadols, I don't know [which one I've had more of]," he laughs. "But it's all under control, so I'm sleeping."
As of day two, no one has yet christened the pool, he says, although the gym, bar, restaurant area and designer pool table have all been used. But it won't stay that way for long, he says – "the hotel is fully booked for Saturday night, and almost full for tomorrow and Friday."
"So you'd better come and see it for yourself – just book early."