As Wardrobe and Wig Director at Opera Australia Lyn Heal is tasked with bringing costumes to life onstage. She tells us how it all comes together, wardrobe malfunctions and all.
Every day is different, but most of my time is taken up with scheduling and costing shows.
I have to make sure there is plenty of work, or, if we have too much work, that we get staff in. I also need to deal with designers and other people in the company.
I deal with singers a lot, organising when they're available for fittings and just keeping it all churning over.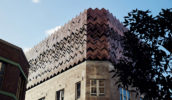 <h3We usually have about four to five productions in the workroom at any one time.
When a new production comes in, we start working through each costume with the designer to talk about the type of fabric and how they see the costumes working.
I need that information so I can cost out the show.
Then it just comes down to whether we can afford it or not.
We start working on a production a year in advance.
We've just had the designs presented for a new production, which we'll put on in Sydney in winter next year.
We definitely need all that time, especially to source and buy fabrics – about 80 per cent of our fabrics have to come in from overseas these days, because there's nothing left in Australia.
The costumes are picked up and put down a bit over that time.
The first couple of months might be buying and collecting the materials needed.
Then we'll start cutting and putting the costumes together for a first fitting, but it may be put down for a month or two while we're working on other productions.
They're finished off just before we get to the stage.
How long a costume takes to make is a bit like how long a piece of string is.
Something contemporary could be a couple of days.
If you're talking about a period costume, you're probably looking at anywhere between 60 and 120 hours.
All our costumes are made so they can be altered.
We allow large inside seams, so everything can be re-used.
We have costumes that have been on 10 different people, the seam allowance has moved in and out.
That's why things take longer.
If you were just making for a one-off performance you'd probably halve if not quarter that timeframe.
You always have serious wardrobe malfunctions.
There's always something that will go wrong and it could be as simple as the performer not doing up their petticoat properly, so you see them on stage and suddenly their petticoat is on the floor.
One malfunction I had was in figaro and involved a pair of black velvet breeches.
The performer had to sit with his legs open facing the audience and he'd split the crotch in them so you could see his white undies quite clearly.
I think he knew afterwards, but not at the time.
I have people say to me, 'Oh, you must love going to costume parties'.
I can't think of anything worse!
I love putting them on other people, I love being a part of the manufacturing of them but, no, I don't need to wear them myself.
We have a lot of tours come through and they're always in awe of the workroom.
It's quite a large workroom and we do some amazing things.
I think a lot of people see the opera – or any production – and the costume is such a part of the whole thing that they don't really acknowledge it, which is probably good.
It all blends into the wonderful performance.
But I think people are surprised when they come here and see the work and effort that goes into producing costumes.
There have been a few expensive costumes.
It's very much up to the designer.
One designer decided he was going to spend all his money on the principals and dress the chorus out of what we class as 'dead stock', which is old shows that are no longer performed.
He pulled all of the costumes out of our dead stock, threw them into a dye pot and we put them on the chorus.
Then he spent the money on his principals – they looked absolutely amazing.
Wigs come under my jurisdiction.
Most of the wigs for the principals are real human hair.
The chorus all have one to two wigs each made from human hair that they re-style for different shows, and then we'll fill in with other things such as synthetic wigs.
The wigs depend on the show.
If we're doing The Pearlfishers or Lakmé, where they need long black hair, then we obviously put them in a wig.
For contemporary productions, we tend to use people's own hair.
But a lot of performers like to have a wig because they can just shove it on and go on stage.
They don't have to sit for hours getting their hair done.
In a way, we prefer it, too, because we have more control.
The chorus don't get a say in their costumes.
But we obviously make them very comfortable, we take into consideration their quirks and perks.
The principals have a lot more say.
They have to perform and they have to be comfortable, so that's a conversation between the designer and performer as to what works for them and still looks good.
Sometimes the design has to be changed a lot to accommodate the performer.
Some female principals love wearing a really tight corset.
They can push against it when they're breathing.
We had one performer who was in The Pearlfishers and the designer had chosen a sari with a bare midriff and she said, "I can't do that, I need to wear a corset to sing," so the designer had to put the singer in a corset, which is totally different to what it should be.
There's also the opposite, where singers can't handle anything tight, so you put this corset on that they're just swimming in and it's doing absolutely nothing, but they can't bear it being tight.
A lot of male performers struggle with period trousers.
The trousers come up quite high, where they're breathing, and most men don't like the feeling of the trousers being up there.
Also you're fighting against today's fashion, where it's all down around the hips. It becomes a bit of a negotiation sometimes.
My job needs a lot of patience, It sometimes gets tested quite a bit.
But I love the excitement of getting a new production and the challenges that sets out for me in as far as getting it within the price range.
Being creative, working together and solving problems is the part I really enjoy.
Tours run at The Opera Centre in Sydney's Surry Hills every weekday.
Can't get enough of Sydney? See our Sydney section for more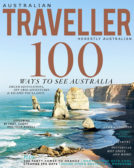 Enjoy this article?
You can find it in Issue 74 along with
loads of other great stories and tips.