Think there's nothing fun and different to do in Sydney this winter? Think again…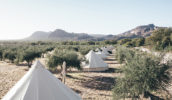 If there's one thing that's undeniably sought after in Sydney, it's unique experiences that you can't do anywhere else – especially in Melbourne. (That old rivalry rears its head again, eh?)
So when it came to our attention that Pier One Sydney Harbour (formerly the Sebel Pier One) in Walsh Bay was embracing winter with open arms, offering guests a truly unique experience, different to anything we'd seen or done before – we relished the opportunity to investigate.
What it has ingeniously dreamt up – and installed – are igloos on its waterfront esplanade. Transparent, weather-proof structures that are decked out with heaters, chairs, furry throws, lighting – and even a hot tub! No fooling.
The perfect place for a party
Truly one of the most exclusive spots in Sydney, Pier One's back deck hosts a number of igloo structures that can fit 10 people comfortably inside. With Luna Park lit up on the right and the stunning harbour right in front of you, it's quite possibly one of the most dazzling spots to unwind with a drink. The floor-to-ceiling zipper of your private igloo means that you can have the space to yourselves, even though you're only a few metres down from a neighbouring igloo.
You can have it catered, too
Pier One is a five-star hotel and so you can expect the igloo's menu to be of a certain quality. While the hotel prefers you to pre-order your food before you arrive at your igloo, guests can always top up on prosciutto pizza or extra servings of fries to go alongside the platters full of fish tacos, quaint sliders, and even salt cod croquettes.
Yep, there's an actual hot tub
We kid you not! In one of the igloos of the deck of Pier One, is an actual working hot tub, meaning guests can lounge in their 34-degree hot tub, in the middle of winter, as they're protected by a translucent (though, misty – for added privacy) shell that keeps the heat in and allows you to be truly comfortable as you watch the dazzling lights of Sydney harbour.
You can turn it into the best kind of sleepover, ever
If you can't bear the thought of retreating home after a night of igloo frivolity, you can always opt to stay the night, taking up the Igloo Suite Package. Originally made for VIVID timing, the deal is available for bookings until 31 August, and includes a private igloo on the balcony of your luxury suite and overnight accommodation in the suite (the igloo's great, but let's agree a bed in a five-star hotel wins every time, yeah?) You can also invite mates to join you in your igloo (maximum 10 people) until 9pm, and you'll also get a magnum of G.H.Mumm Champagne to kick things off.
VIVID Igloo Suite Package: from $984