Brian Johnston celebrates the 50th anniversary of The Dish with a trip to Parkes…and beyond! Out in a New South Wales sheep paddock, tens of millions of dollars of scientific equipment is sitting idle because the wind is blowing. The famous Dish might be turned to the heavens like a giant ear, but whatever signals are coming from outer space are drifting onto my upturned face and being lost forever.
"Take a look at it!" says CSIRO operations scientist John Sarkissian, gesturing towards the huge metal parabola sitting delicately atop a concrete tower. "It's basically a glorified beach umbrella and, if you've been on a windy beach, you know it doesn't take much to blow it away."
Low winds – as well as relative isolation from radio interference – are the very reason the CSIRO Parkes Radio Telescope stands in such a remote location. Today, however, the wind is making my eyes water. Famously, the wind was also blowing just before the Apollo 11 moon walk began in 1969. This was just one of the dramas in the movie The Dish, which portrayed folksy and inept Australian boffins ("Houston's other problem") bumbling their way through the relaying of Neil Armstrong's moonwalk to a waiting world.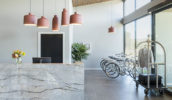 The Parkes telescope is celebrating its 50th anniversary this October, but it was the 2000 movie that made the general public aware of this world-leading scientific facility, and has brought visitors to its doors ever since. In the visitor centre, I take a look at NASA exhibits and the control panels used as props in the movie. In the theatrette, I take off on an improbable Elysium Tourist Express to a 3D Mars where, I'm informed by the voiceover, I could jump three times higher than on Earth thanks to Mars' weaker gravity.
This seems more science fiction than science fact, and I quickly discover that assisting with NASA projects is only a minor part of Parkes' work. In fact, the visitor centre reveals that this is a cutting-edge astronomical research station. The majority of the world's known pulsars – dense, spinning remnants of ancient stars – were first detected here, and other astronomical phenomena such as quasars and interstellar magnetic fields were discovered at Parkes, pushing back our understanding of the origins and composition of the universe.
This is impressive stuff but, in the visitor centre, John is patiently answering questions from wide-eyed kids: Whether they can play cricket on the surface of The Dish as in the movie ("Unfortunately not") and whether he has ever heard from aliens ("Only when coming home from the pub").
After a while I amble outside and inspect what looks like a lunar landing module but turns out to be the telescope's old focus cabin. The vast parabolic dish captures the faintest of radio signals from the distant edges of the observable universe and focuses them onto a receiver, which amplifies the signal millions of times over.
"Needless to say, with such sensitivity, everything goes bonkers if someone uses a mobile phone, which is why they're banned on site," laughs Dr Sarkissian. "Even departing visitors turning on their car engines emit a blast of radio waves, and a barbecue lighter can be mistaken for the radio signal of a neutrino crashing into the moon."
Gazing at the telescope from a short distance away is as close as anyone normally gets, but for its October anniversary, visitors have a rare opportunity to venture beyond the visitor centre and into the telescope itself. There will be guided tours through the tower to the control room, where radio data is mulled over by banks of computers that blink like the flight deck of the Starship Enterprise. Visitors can then emerge just under the surface of The Dish, as well as visit and inspect the azimuth track that swivels it around to point at different parts of the sky.
"You won't get onto the surface of the dish, it's too dangerous," says John. "But you'll be able to see things you don't normally see. It's very rare for a science facility like this to allow such access to the public."
The anniversary will also give visitors the chance to attend Q&A sessions with astronomers, while staff dressed up as astronauts and Einstein will be on hand to amuse the kids. John hints he might reprise a role as Galileo's long-lost cousin Giovanni.
"It's a lot of fun, especially showing people the moon and planets with our replica Galileo telescope," he chuckles.
Standing gazing up at this extraordinary contraption, I feel like a big kid myself. "A little curiosity goes a long way," it says across the façade of the visitor centre. Yes indeed; the most distant objects detected from Parkes are 20,000 million light years away. I may be in rural NSW, but I'm visiting the distant reaches of the universe, and there's no more exciting journey than that.
The Details
Where 473 Telescope Rd, Parkes, NSW.
Notes The Visitor Discovery Centre (which includes a café) is open seven days a week 9am to 4.15pm, with extended hours during some NSW school holidays.
There will be two open days for the 50th anniversary on October 8-9, with guided tours through the telescope, regular talks by astronomers, and family activities. There will also be an Opera at The Dish concert on October 8.
Contact (02) 6861 1777; csiro.au/parkesdish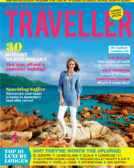 Enjoy this article?
You can find it in Issue 41 along with
loads of other great stories and tips.