Sydney University's sports club dropped a learn-to-surf brochure through my letterbox one miserable day when I was buckling under the strain of getting divorced at 43. As I transported the flyer to my bin, something made me pause: Wouldn't it be weird if… I went? The spinning compass of a marriage meltdown can lead you in strange directions.
Two weeks later, on a Friday after work, a loose assembly of about 25 men and women are standing outside a huge backpackers' joint near Central Station. I am, like, waaaaay older than anyone else.
"Rock'n'roll!" says "G", a powerhouse chick with a surfer's upper body. "Who's here for Surf Camp? Rock'n'roll!"
Our bags are stacked in a trailer and we pile into two vans. A surf trip is part of the authentic Australian experience for backpackers, and there's a whole row of Californian women up front; an Irish couple trading deathly drinking stories behind me; an English voice requesting Coldplay; a German insisting on reggae. Two hours later I am the only one awake (apart from the driver) as Kings of Leon brings out the surreal best of a ghostly South Coast.
We pull into the caravan park at Seven Mile Beach, unload and head for a beer on the bloody cold beach. I strike up a conversation with a German law student about Tolstoy and insolvency litigation. Back at camp I miss out on shacking up with the Californians and am put in a bunk room with the Irish. We wee through the night as a tag team.
But Surf Camp is not a party. At 8am the next morning we arrive on Seven Mile Beach in attack formation. We are wetsuited soldiers, hauling car-length foam boards. Waiting for us is a small crew of surfie teachers, including a tall and handsome American destined for Hollywood. In our thick black suits (with numbers – to identify us in the event of some unfortunate event?) we bend and draw surfboards in the sand, to be drilled in the act of pushing up from the board while sexually pressing our loins into it. Next is a spring onto the front foot and standing with knees bent, looking as though you're crouching in a supermarket aisle and trying to touch opposite shelves. Once we have the hang of that, it's into the water, charging into the Pacific to gingerly paddle a 180-degree turn and try over and over to get a snail's-pace ride to shore on a knee-high wave.
Our teachers are in the water with us, willing us to shore. Seven Mile Beach is chosen for its gentle gradient and we feel safe and encouraged. Our surf teachers "rock".
Two hours later we hump our boards back to the truck, walk back to camp and emerge from our suits to walk around in front of each other in wet underpants (shorts are too bulky under wetsuits).
A surfer's lunch of filled rolls follows, then we have some downtime until G rounds us up for our second two-hour lesson of the day. We head determinedly for the shore, hugging our heavy, damp malibus against the wind.
Slowly it starts to make sense. If you stand in the middle of the board, you'll likely nose-dive and get a mouth full of water. If you stand too far back, your back end digs in and the wave will just slowly sneak away from you. But to get up and then, quick as you can, make the minor adjustment that transmits balance to your board, which then responds with a surge of forwards power – well, that's pretty exciting. I could surf. On day one.
And so could everyone else.
At 4pm, after four hours of surfing, we return to camp to eat like real surfers: two burgers each.
Saturday night in Gerroa – nice, if a bit suburb-by-the-sea – is spent drinking beer with my Irish roommates at the Boat Fisherman's Club. Various surf campers duck in, but no-one pushes deep into the drink that night, except for two Italian mathematicians who are seen sitting in front of an empty whisky bottle in the morning. They surf for four hours the next day, with pale faces.
The German lawyer turns out to be kickboxer too, and as she takes us through stretches for our final lesson, I reflect on this experience. Surf camp is about your brain having a break while your shoulders take on the weight of the ocean. By the end I've had a face full of water, enjoyed some intelligent conversation and finished a book in a hammock – while making sure none of the women got any ideas about me.
By Jeremy Chunn
DETAILS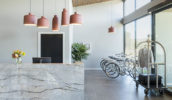 Where & what Surf Camp Australia offers packages ranging from the weekend package described here, costing $295 (which includes accommodation in Seven Mile Beach, all meals and a couple of beers and some pizza when you get back to Sydney at 7pm on Sunday) to a 14-day trip up the coast, from Sydney to Byron Bay, costing $1650.
Contact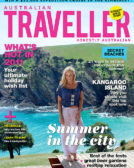 Enjoy this article?
You can find it in Issue 36 along with
loads of other great stories and tips.