If you have to swim in three wild, wonderful places in the Northern Territory, make it these three. Welcome to the world of wild swimming Top End style: Litchfield, Kakadu, Berry Springs.
1. Walker Creek
A gem in the crown of Litchfield National Park, 200 kilometres from Darwin, this series of eight waterholes is so secluded that you'll often enjoy a pool all to yourself. There's a single campsite beside each waterhole, too. (dry season only)
2. Motor Car Falls
Another beauty queen rival, Motor Car Falls (wet season) is located along the Yurmikmik walk in southern Kakadu, 300 kilometres from Darwin. Here a towering granite cliff face gives way to a waterfall and sparkling pool. The latter teems with freshwater turtles and shrimp, and at the rear of the pool there's a small swimmable cave to explore.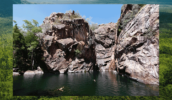 3. Berry Springs
The most accessible wild swim in the Darwin region, Berry Springs lies just 115 kilometres from the city lights. Its crystal clear waters house archerfish that shoot jets of water up into the air to catch prey. Navigate these springs with a snorkel. The lower pools carry a mysterious, almost eerie air. (dry season only)
ALL YOU NEED TO KNOW ABOUT: Wild swimming in the Northern Territory – croc free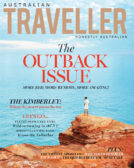 Enjoy this article?
You can find it in Issue 67 along with
loads of other great stories and tips.