Forget fascinators and thoroughbreds; a day at the races in the Northern Territory leaves the rest in the dust.
1. Uluru Camel Cup
Fashions on the Field, a sparkling ball and a whole weekend carnival of activities may all sound familiar, but the race mounts are certainly bigger and less even-tempered. Off the track at the Uluru Ouback Festival, you can dance under the stars at the outback ball and bid (loudly) for your right to back your favourite in the famous betting Calcutta auction (29–30 May, 2015).
2. Tatts Finke Desert Race, Alice Springs
Forget Paris–Dakar; Alice to Aputula is where it's at. They say around 500 bikes and 90 buggies are expected once again to race through our toughest landscape in what may well be one of the hardest off-road races in the world. Spectators of the Finke can camp along the track or at the finish line in the very remote Aputula community but, of course, the best way to see it is to do it, so grab your helmet (6–8 June, 2015).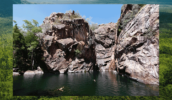 3. Brunette Downs Races, Barkly
Dusty. Gutsy. Not for the faint-hearted. These iconic horse races run by the A.B.C. Amateur Race Club out at Barkly have been run for well over a hundred years, with many racegoers flying in along the dirt airstrip especially for four days of ultimate outback racing amongst a huge carnival that seemingly brings the whole world to Brunette Downs (18–21 June, 2015).
4. Lasseters Camel Cup, Alice Springs
In case a camel race alone (or nine of them, actually) wasn't quirky enough, this one-day, no-holds-barred camelfest includes belly dancers, rickshaw races and Mr and Miss Camel Cup challenges. It's one of the most accessible racing fiestas in the Territory, if you're commitment-shy about the other multi-day carnivals this time of year. (11 July, 2015). See: Alice Springs Camel Cup – behind the outback bizarre
5. Outback Marathon, Uluru
Why race on a horse or camel when you've got two perfectly good feet? And with cool temperatures, blue skies and a backdrop that's nothing short of jaw-dropping – running right through the incredible Uluru-Kata Tjuta National Park – it's not really surprising that entrants flock here from all over the world. If you're not quite ready for the full- or half-marathon of the Outback Marathon, there are a couple of fun runs for the less hardcore (25 July, 2015).
6. Henley on Todd Regatta, Alice Springs
You're right – a marathon sounds far too serious. And the Henley on Todd race is at least as famous, with teams racing their boats down the eternally dry bed of the Todd River in a race that could really only make perfect sense in the Northern Territory. All proceeds go to Rotary though, so it's a regatta worth sailing/running/watching and laughing about (15 August, 2015).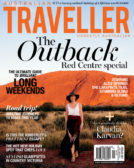 Enjoy this article?
You can find it in Issue 61 along with
loads of other great stories and tips.