The less-travelled Stuart Highway Top End roadtrip cruises into number 88 on Australian Traveller's '100 amazing places you haven't been to yet'. Nominated by: Lynton Tapp, MasterChef runner-up.
Sometimes the road less travelled is actually on a very well-travelled road indeed. MasterChef Australia runner-up and proud Territorian, Lynton Tapp, loves the history that caused the quirky, always fascinating roadhouse establishments to pop up along the stretch of the Stuart Highway from the Alice all the way to the top – though he loves the run from Tennant Creek upwards the best.
"It's very historical. These were pioneering towns once upon a time – little satellite towns every 100 to 150 kilometres along the road to service the local communities," Tapp says.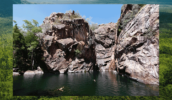 From Emerald Springs to Hayes Creek with its caravan park; then the Daly Waters Historic Pub, boasting beef 'n' barra and six beers on tap, before heading onwards to homebaked bread and home-cooked meals at Renner Springs, almost on the halfway point of the Northern Territory (if you count it border to border).
"You can go into a local pub or roadhouse," Tapp smiles, "and you'll find stories dating back to the '50s or '60s when things were a bit different. Each one will give you a sense of the Territory: the larrikins, the publicans, the locals and the owners."
Each one is different enough that it's worth making time to drop in to not only each roadhouse, but the attractions they are often sitting beside. Tapp's favourite is Mataranka, where he thinks the springs just might be "the most beautiful place I know in the state".
If you continue on up onto the Arnhem Highway towards Jabiru, however, you could do worse than time your drive so you can get into a Barkly Big Brekky at the Barkly Homestead, and then take a moment at the Corroboree Park Tavern to view buffalo and saltwater crocodiles, or stop and stay the night so you can swim the saltwater pool.
Return to: 100 Amazing Places You Haven't Been to Yet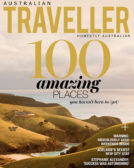 Enjoy this article?
You can find it in Issue 62 along with
loads of other great stories and tips.