The stunning Adelaide River twists its way south from the Van Diemen Gulf at Djukbinj National Park, all the way to the Adelaide River settlement on the Stuart Highway south of Darwin. The scenic town, population just 190, lies on the riverbanks and has a rich and fascinating history.
Settled by workers on The Overland Telegraph Line, the town became known as a convenient stopover for miners travelling between Southport and Pine Creek after gold was discovered at the latter in 1892. Adelaide River was also a major military headquarters during WWII and a popular weekend retreat for important military personnel from the NT capital. Its cemetery, a must-see for any Australian, holds many of those killed during the WWII bombing of Darwin, and the old railway bridge and station – which is now a museum – is also worth a visit.
The muddy river is home for buffalos, jabirus and a variety of wildlife – and is also home of the famous jumping crocs that leap full body lengths out of the water to wrestle helpless chickens to the murky depths. Be sure to drop in to the Adelaide River Inn before you leave town, if only to pay homage to Charlie the Buffalo (above), made famous by being hypnotised and lowered gently to the ground by Mick Dundee on the big screen. (Charlie might not be so talkative, though. He's been stuffed to keep him in peak condition.)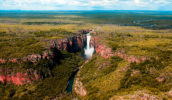 Where? // 114km (1hr 41mins) south of Darwin, 203km (2hrs 20mins) northwest of Katherine.
Did you know? // A rare shark species called the Northern River Shark has been found in the Adelaide River.
Return to: the 100 Best Towns in Australia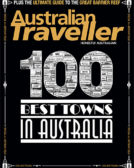 Enjoy this article?
You can find it in Issue 26 along with
loads of other great stories and tips.