Goat Island on the NT's Adelaide River, a secluded island hotel with an open bar and hungry crocodiles – number 72 on Australian Traveller's '100 amazing places you haven't been to yet'. Nominated by: Jennifer Pinkerton, travel journalist.
What do you get when you combine a pet crocodile named Casey, a castaway nicknamed Happy, a secluded island 'hotel', and an open bar?
"A very NT adventure," grins Jennifer Pinkerton. Smack bang in the middle of the Adelaide River, Goat Island Lodge is a sprawling ramshackle of a getaway: four dongas, bar, restaurant and an open-air balcony, all surrounded by croc-infested waters.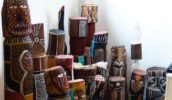 Kai Hansen ('Happy' to his friends) is the sole occupant of the island, and as you'd expect, he's a real character.
"Politically incorrect as all get-out, and he knows how to spin a yarn," Pinkerton smiles. "A top cook, too."
Originally a popular spot with local fishermen, the island eventually came to the attention of local adventurers and has been slowly growing in popularity since.
You'll need to hire your own boat (or chopper) to get here – the island is around 22 kilometres downstream from the river boat ramp. "Call Jim at Arafura Boat Hire (08 8988 1265) and tell him I sent you," Happy advises. "He'll sort you out."
Pinkerton has one more piece of advice to add, too. "Look out for Casey, Happy's pet croc. She's 350 kilograms and 3.5 metres long, and he feeds her each night!"
Return to: 100 Amazing Places You Haven't Been to Yet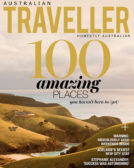 Enjoy this article?
You can find it in Issue 62 along with
loads of other great stories and tips.