If wilderness is defined as being difficult to get to, this is it.
You can only fly into the Northern Territory's Seven Spirit Bay on the Cobourg Peninsula. Once there, you'll be able to explore Garig Gunak Barlu National Park (pronounced Gah-rig Goon-uk Bar-loo), previously known as Gurig National Park and Cobourg Marine Park. This park is a mosaic of sandy beaches, dunes, coastal grasslands, mangroves, swamps, lagoons, coral reefs and rich marine life.
There are several reasons for making this trip of a lifetime. The land is untouched and ancient, marvellously beautiful and virtually empty of people.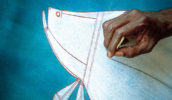 The Seven Spirit Bay Wilderness Lodge is award winning on many levels, both from a design and cuisine standpoint. You'll be in the wilderness, but very comfortable indeed. Lastly, and perhaps most importantly, you'll be able to marvel at what is possible these days as far as building a "resort" goes, without destroying the landscape.
Did you know?
It's possible to drive to Garig Gunak Barlu National Park through Arnhem Land. However, it may take you up to a year to get a permit for your 4WD, since only 15 vehicles are allowed on the road at any one time.
How to get there
Qantas and Virgin Blue have regular flights to Darwin from most major cities in Australia.
Access to Garig Gunak Barlu National Park is via an unsealed road (4WD only) through Arnhem Land. The roads are usually open in the dry season (May – September), depending on the rains.
Best time to go
The dry season (May – September)
Further information
Useful websites:
www.nttravel.com.au/kakadu-arnhem-land/cobourg-peninsula
Visitor information on the Cobourg Peninsula
www.sevenspiritbay.com
Seven Spirit Bay Wilderness Resort
** This is our original 100 Things to Do Before You Die. First published in 1996. There is an updated 100 Things To Do In Australia Before you die, published in 2011.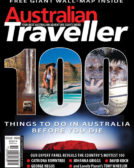 Enjoy this article?
You can find it in Issue 8 along with
loads of other great stories and tips.