Bawaka Cultural Experiences, Cape Arnhem, NT is one of Australian Traveller's Top 20 Indigenous Expereinces
BAWAKA CULTURAL EXPERIENCES
PORT BRADSHAW, NORTHERN TERRITORY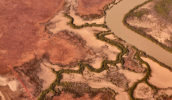 "Coming to Bawaka is like the world's being lifted off my shoulders" says Rosie Pearson, our Aboriginal driver. "You wait. You'll feel the same."
Suddenly the vehicles screech to a halt and Timmy Djawa Burarrwanga flies from the driver's side of the vehicle ahead, spear in hand. He wades into the water. We stand transfixed, looking for we know not what. A splash, a flurry of water, Timmy darts deeper, throwing the spear expertly. The cheer goes up – we have lunch! A trevally large enough to feed all ten of us.
Timmy is the traditional owner of this land and this is his tour. "I want you guys to come here and understand our culture," he says. "It's about you and I together respecting each other, the country, the land, the people."
Yolngu people are the people of Arnhem Land – all 16 clans. Timmy is a Gumatj man. His clan has called this area of northeast Arnhem Land home for thousands of years but were dislocated by missionaries in the early 1900s. It wasn't until 1975 that his family reclaimed their homeland at Bawaka.
"Listen to the nature, wind, birds, water – we are strong as a family and we want to teach our guests how it works here," says Barbara Burarrwanga, Timmy's mother, a teacher, and someone who wants to share the women's business with visitors from afar. "Too many people have lost the communication. We now need to share the communication with everyone from around the world so it is not lost."
A half-finished dilly bag is passed around so that the female guests can learn the art of weaving. "I have ruined your work," says one distraught apprentice. "No, you are learning to weave," responds Barbara without concern. The calm is broken by whoops from the children as the fish is scooped from the coals, unwrapped and made available for eager hands. No-one is particularly concerned that mystery fish bits are being consumed. The taste would make a gourmand proud.
Throughout the afternoon we roam the length of the peninsula, drifting in and out of small coves and up and down untouched beaches. In the paperbark grove, Barbara tells us "the spirit here has a woman's eyes. This land is female. Bayini is the spiritual woman of this country of Bawaka."
Bawaka cultural tours operate in the most northern and remote part of Arnhem land. Truly this is one of the most pristine and untouched parts of Australia. Traditionall-y Bawaka has been closed to visitors, but only recently has Cape Arnhem been opened up for visitors. And if I lived somewhere this breathtakingly beautiful, I probably wouldn't want to share it.
Details:
1-day cultural experience tour, $250 per person (max 6). Gay'wu (Dillybag) Women's Program, two days, $950 per person (all food and camping gear provided, max 6). Camping tours and cultural experiences for larger groups available upon request.
Inclusions: Transportation, crayfish, fish, oysters, mud crabs, damper, bush apples, witchetty grubs and whatever bush tucker and fresh seafood is caught on the day.
Exclusions: Need to bring own lunch and water for day tours. Please dress conservatively (no bikinis or other revealing garments).
PHONE: (+61) 8 8987 3433
EMAIL: dhanbul.admin@octa4.net.au
Bawaka Cultural Experiences is one of the Top 20 Indigenous Experiences of Australia. The published magazine is available on request.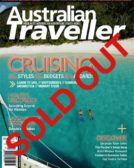 Enjoy this article?
You can find it in Issue 15 along with
loads of other great stories and tips.