Gail Liston has hit the road and distilled her extensive travel knowledge to bring us the 20 Top Tours from all around Australia.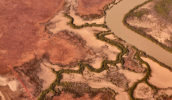 At the very tip of Arnhem Land facing the Arafura Sea is the Cobourg Peninsula, one of Australia's lesser-known wilderness wetland areas but one that certainly is a hotspot for those of us with a bent for discovery. Tour operator Brendan Bainbridge has been roaming the Top End for nearly 20 years, so there's little this bloke doesn't know and isn't willing to share on his four-day four wheel driving expedition into Gurig Ganuk Barlu National and Marine Park.
Only 20 vehicles are allowed into Cobourg at any one time, so there's no chance you're going to be part of a crowd. The phenomenal natural beauty, unrivalled immersion in Aboriginal culture through astounding rock art and the possibility you'll probably have at least one close encounter with a crocodile and buffalo is sufficient reason to venture north.
Camping at Brendan's coastal camp on Port Essington is pretty amazing as well. Here you can fish for the nightly meal, glimpse an elusive dugong, watch frolicking dolphins and, when the season is on, follow nesting turtles up the foreshore . . . and the bird life isn't too shabby either.

Brag Factor // Wake to the sounds of silence broken by the occasional squawk of a hungry galah on a far-flung peninsula few humans ever visit.
Details // Tour by Venture North, $1479 adult, $1225 child (6-14 yrs). (08) 8927 5500, www.venturenorth.com.au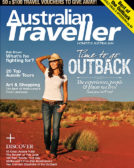 Enjoy this article?
You can find it in Issue 27 along with
loads of other great stories and tips.