Think of Darwin as a national question. What's it like? How has it come to be? Why is it so grossly underestimated? On holidays there, why do so few things go to plan – and why is that a good thing? AT's Xavier Jefferson heads to our most enigmatic capital city to get some answers.

Sitting in 34D on the Qantas flight to Darwin, the lack of attention we "southerners" give the NT's capital smacks me in the face. The in-flight magazine has a lengthy feature on the Anzac Day ceremonies across the nation, with tiny photos of the war memorials and service times in each state and territory . . . except Darwin. How can that be? The location of more war action than the rest of Australia put together doesn't rate a mention on Anzac Day?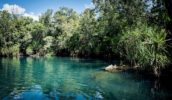 When I told friends who'd been to Darwin where I was off to, there was a fairly standard response: "Oh, you'll love it. You have to go to Kakadu, Litchfield, Katherine, try to get on one of the Arnhem Land tours and if you have some money get to Peppers at Seven Spirit Bay."
"No, I'm not leaving Darwin."
Pause. "Oh."
Awkward silence. "Wait, what?"
NOT LEAVING, STAYING

Even Bill Bryson in his epic Down Under pays Darwin little more than lip service, berating the accommodation and hospitality and offering some praise to the Museum and Art Gallery before beating a path out of town to the national parks down the road. Reading between the lines, I think he stayed only one night.
Darwin is definitely no ordinary capital city. It took white pioneers four attempts – count them, four – to make a permanent settlement in the Top End, and even then it wasn't a raging success. Darwin and what we call the NT today was actually annexed by South Australia in the mid-1800s for its potential as an agricultural cash cow. It was eventually handed back to the newly federated Commonwealth when the ugly duckling failed to turn into a swan. Soon after in 1911 the town changed names, from Palmerston to Darwin.
After being bombed away in the '40s (in 64 separate raids during WWII the Japanese dropped more bombs on the city than on Pearl Harbour), Darwin was blown away by Tracy in the '70s. The town was evacuated for the second time in 30 years, and the relative merits of even bothering to rebuild were debated. Since 1974, the most the rest of Australia's heard about Darwin has been as backdrop to the Chamberlains and Peter Falconio. If Darwinites suffer from a "nobody cares about us but we don't care" attitude it's entirely understandable.
Darwin also runs on a different timetable to other cities. Most flights land at hours normally banned in other Australian airports, so my first impression is of a rather bleary eyed nightscape from a taxi.
DO MENTION THE WAR

I've timed my visit with impeccable precision, albeit more by luck than design. I've arrived at the very end of the wet season, so everything's green but not sticky, and just in time for Anzac day. While many thousands of Australians are paying the big bucks to make their pilgrimage to the "home of the Anzac spirit" at Gallipoli, I'm paying far fewer bucks to visit the site of the Anzacs at home.
Darwin is absolutely littered with WWII history. It's not entirely well organised but no other place in Australia has this sheer, in-your-face, touchable war history. Having flown in at 1:00am Anzac morning, I drag myself out of bed a scant few hours later to attend the Dawn Service. The speaker concentrates on Simpson and his donkey thousands of kilometres away while we sit perched atop the cliff overlooking the eight mass graves at the bottom of Darwin Harbour (eight ships were sunk in the first Japanese attack on February 19, 1942). Do Darwinites themselves even recognise their very significant and important history?
Back in town, a short five minute stroll, I sit at one of Darwin's many excellent cafés and down a welcome and surprisingly good coffee at Moorish on Knuckey St to plan the days ahead. While I'm sitting there the Anzac March starts up. The Diggers and current service people parade is short but well attended. What could you expect in such a military town? Supporting army, naval and air force bases, Darwin is very, very strategic, the staging point for forces off to Timor and the first port of call for Aussies caught in the Bali bombings. The faces of the marchers demonstrate that Darwin is the multicultural place that every southern city pretends to be.
The Tour Tub is the vehicle du jour for getting around to Darwin's many museums. An open-sided mini bus, "the Tub" takes you on a circuit of most of the worthy sights, dropping you off and returning to pick you up every hour on the hour (or two, or three – you get the picture). I jump on, pay the $30 for the all day hop-on-hop-off service and sit back while part-time driver Tony revs up the commentary.
Bryson's single salutation on Darwin was for the Museum and Art Gallery of the NT. And he was right. The place isn't overwhelmingly lengthy but has a worthwhile collection of things that signify the Territory. The two highlights have to be the Tracy exhibit and the extensive collection of superlative Aboriginal art. Standing in a darkened room listening to recordings of Tracy blow the house down is without doubt the most chilling experience. After ten seconds I very nearly leave, it's that frightening. You'll not ever, ever think of a cyclone as just a very windy day again.
The Tracy display actually starts in very Territorian style. The First Nationers who faced Tracy believed it to be the Rainbow Serpent venting its anger at the people's neglect of their ritual responsibilities. This led to the development of at least two cyclone Dreaming dances and songs. Forming the opener of the Tracy display is a clear indication that, in the Territory, things may not be perfect but there's an intention to have things in the right order.
I sit down to lunch at Cornucopia, the museum's café and another excellent Darwin diner. The views over the travel brochure-beautiful Fannie Bay are so distracting I almost miss the Tub; I've been at the museum for three hours and feel as though I haven't gotten it all.
It turns out I haven't. The map the museum provided is totally inadequate (an A4 black and white photocopy with one of the wings cut off), so I can't tell you whether the Maritime Boatshed et al is fantastic. Later, a learned local friend gives me the "you totally missed out" look so I can but recommend it, sight unseen, based on the quality of the other exhibits.
The Tub deposits me at the East Point Military museum, where Darwin gets serious about its wartime history. The curator of East Point deserves a medal. The commentary for the weapons displayed is typical Territorian – no fuss and highly amusing in its directness. I'm so drawn in I read every little card in every little display. The best is this final description of the Styr HBAR-T (a machine gun): "has more killing power than the Maxim or Bren even though it appears to be more like some kind of military fashion statement." That's Darwin directness to a tee; it does look more like an accessory than a killing machine.
The rest of the museum is a large block loaded with field and artillery guns, tanks, jeeps and the piece de resistance – Australia's own Gun of Navarone. Well, almost. It's a replica of a 9.2inch gun that once stood guard over the harbour. (Irony of ironies, the original was sold for scrap in 1959 to the Japanese Fujita Salvage Company.)
The curator's excellent descriptions cause me to miss Tony and the Tub, but the kind museum manager calls him on his mobile and insists he come back. This is a great virtue of being in a town in which time is somewhat elastic. Tony's happy(ish) to see me and as we pass Mindil beach on the way back to town, the location for Darwin's famous markets, the commentary goes a little off script. "I don't go anymore," says Tony. "Too many people. I don't want someone spilling their food down my back." This is the authenticity that makes Darwin a rewarding place – if a tour guide doesn't like one of the premier Darwin experiences, they'll tell you. Don't take local opinions too much to heart, though. Darwinites take for granted many of the things visitors love and will seek out.
SCOOTING ALONG
The next morning I want to be self-guided to take in the things not covered by Tub stops. After an excellent muffin and even better coffee at Bar Espresso on Mitchell St, my first stop is across the road to hire a 50cc scooter – a hairdryer with wheels.
Darwin's wide streets and easily navigable areas make it easy to get yourself around town without incident. The hairdryer has enough zip that I'm not going to be a slow-moving danger, and deposits me quickly at Fannie Bay Gaol, right between the Museum and East Point Military Museum (and a drop off on the Tub). The gaol has been well preserved and the extensive collection of buildings house excellent displays on life in tropical incarceration, although the place has a questionable record in the confinement stakes. Legend has it that, during the bombing raids, all the prisoners were freed and military personnel moved in. Then, with the arrival of Tracy, the inmates were again freed to fend for themselves, with 98 percent returning when it became one of the few structures still standing. (I ask the lady at reception if this is true and she can neither confirm nor deny.)
Back on the hairdryer I head towards the city, detouring to take in the newish suburb of Cullen Bay. It's a collection of very large and luxurious bayside houses, most with private moorings. The precinct also houses one of the (reputedly) best cafes in town: Buzz. Then I head to the top of the hill, Myilly Point, which overlooks both Cullen Bay to the south and Mindil Beach to the north.
Myilly hosts four excellent and surviving examples of typical pre-Tracy houses. On stilts, with louvered windows to stay cool, they were ideal for the tropics. Just not for cyclones. One of them, Burnett House, is the site of another Darwin institution, high tea on Sundays. It's Thursday and closed, so I save that for another time and head to the other side of town and the Indo-Pacific Marine Exhibition.
Inside, I'm quickly seated in a film room to watch a video on the Great Barrier Reef. After 15min of highly detailed footage on a reef about 1000km from where I sit, I start to seriously wonder what the hell is going on.
"Had enough?" says John the attendant. "Come on through." Inside is a 10m-long tank filled with coral, fish, starfish and other wondrously slow but alive sea life. John explains in a very soothing and quiet voice that this is a complete ecosystem. After establishing the tank over a period of four years the water has never been changed, the fish never fed and life in the tank goes on. It's occasionally topped up with rainwater to cater for evaporation. The coral was taken from Darwin Harbour, which is filled with it, about 10m from shore. "Its incredibly calming, isn't it?" John's hypnotic tones interrupt my trancelike watching of little fish and coral.
I head outside to Stokes Hill Wharf, now walking at half my usual pace, to find some lunch. I take my acceptable fish and salad (must leave room for the markets tonight) and absorb the picturesque harbour while a pearling boat take stores for its next journey out to the plentiful pearl farms that stretch from Darwin to Broome. After a shower and a rest I jump back on the hairdryer and zoom to the opening of the Mindil Beach Night Markets. Two things indicate the end of the uncomfortable, hot, humid and sweaty wet season – the arrival of the dragonflies and the opening of the night markets, held every Thursday and Sunday from April to October.
The Mindil Beach promenade is a thriving, buzzing stretch of buskers, knickknacks and food stalls, most of which serve very good fare. It's here you find locals (except Tony) doing what they do best – chasing sunsets. On any given dusk in the dry season, step onto one of the many beaches and you'll find locals watching the sun drop into the horizon, sipping on a relaxing drink. (The best place to do this other than the markets is the Fannie Bay Sailing Club.)
I meet up with my learned local friends and kids; I need a recommendation for the best of the food stalls, and this comes from a very unlikely source. "Ken's Crepes," my learned local friend's 10-year-old daughter Lexi pipes up straight away. "You have to have the Nutella and banana ones." What about for main course? "Oh, the roti rolls right next door are the best!"
Lexi has it pretty bang on. The roti roll is a "kebabisation" of the Indian bread and curry and is exquisitely tasty. After wandering around the markets watching the buskers and performers I actually head back for a second roll. All gone.
CROCS AND THE FUTURE

Earlier, I'd turned up to the WWII Oil Storage Tunnels at 1:30pm to be greeted by the site of a guide in an involved conversation with the last of her visitors. "Oh, sorry, the tunnels close at 1:00pm and I've locked up. If I hadn't I'd let you in." Quite all right, I'd told her, considering I was half an hour late. I'd return another day. What time did it open again? "Nine. But don't get here till 9:15. I have to get a coffee."
A few days later at 9:15 she's there, as promised, sitting contentedly sipping her coffee. She tells me how the tunnels were built when bombing destroyed the aboveground versions. Inside I find a nicely presented and well-lit collection of Darwin-at-war images. Then it's off to a very important appointment; Christine O'Leary from the Chief Minister's office is showing me through plans for a very ambitious project. In a cool office filled with models and a large window overlooking a massive building site, Christina rattles off the key data (I'm running late, so she's forced to hurry) and talks me through the Wharf Precinct Development model, comprising 1440 apartments, 279 hotel and serviced apartment rooms, a wave pool, restaurants, umpteen gardens and a really very large conference and exhibition centre. This is going to mean more visitors and big bucks for the city from mid-2008, when the building is completed. And here we find the future of Darwin – a town with precincts catering to all tastes, world-class facilities and a host of authentic experiences in and out of the town.
My final Darwin day I'm heading to the outskirts of town, so it's back in the Tub for a $70 excursion, only Tony has been replaced by Robert Marchan. I later find out he owns the Tour Tub service, plus the Tunnels, a Harbour Cruising operation and some accommodation in town. In an apt demonstration of Darwin getting the work/life balance right, Robert has brought his two daughters along, who intermittently contribute to the commentary.
First stop is the Charles Darwin National Park – a Kodak moment where I madly snap vistas of the township. There are also the ubiquitous remnants of war – a dozen or so ammunition bunkers. Next is Crocodylus, a working crocodile farm with thrice daily feeding tours. The crocs are being bred for fashion (just like catwalk models) and meat and we get to watch as they're fed (unlike catwalk models). The tour is informative and the guide, armed with chickens, is adept at getting crocs to leap from the water for action photos. Kids get involved and are able to feed the larger beasts, which elicits howls and squeals of pure delight. At the end of the tour I'm holding an infant croc, its soft, smooth skin a strange sensation. A little guiltily, the wriggling reptile's texture leaves me thinking: "I really do want a pair of crocodile boots."
That evening at the very impolite hour of 1:30am I board my Qantas flight home. I pull out my notepad and make an extensive list of the things I'll have to come back for – actually now longer then the list of things I wanted to see before I set out. I smile at the distant memory of sending through my planned itinerary to my learned local friend. "Oh, that's plenty of time," she'd said. "You'll be bored of us by then."
Those Darwinites. They really don't appreciate what it is we visitors love.
EAT & DRINK

Darwin doesn't sell itself on its food, but there are a great number of places to eat of various price ranges and styles. Here's a sample.
RESTAURANTS
Hanuman // Darwin's most-awarded restaurant and the first place locals will mention for finer dining. Mitchell St, (08) 8941 3500, www.hanuman.com.au
Pee Wees at the Point // Decent food but the view over Fannie Bay is what makes this a winner. Alec Fong Lim Drive, East Point Reserve, (08) 8981 6868, www.peewees.com.au
CAFES
Cornucopia // Part of the Museum & Art Galleries, it's a great place for lunch. Conacher St, Fannie Bay, (08) 8981 1002
Moorish Café // One of the best-known inner-city cafes, serves up a mix of classic café style and fusion. Knuckey St, (08) 8991 0010
Dolce // Serves up excellent coffee and even more refreshing gelato. Mix the two have an affogato. Shop 18A, Paspalis Centrepoint, The Mall, (08) 8941 6382
Buzz Café // In the heart of Cullen Bay, this is another great lunch and dinner venue. And oddly enough the male toilets are a highlight, with dangerous crawlies imbedded in the seats. The Slipway, Cullen Bay, (08) 8941 1141
Roma Bar // Slightly more "hippish", Roma is a café straight out of Newtown or Fitzroy, right on the edge of the CBD. Cavenagh St, (08) 8981 6729
Bar Espresso // Housed as part of Ducks Nuts (it also has a vodka Bar), this café serves up excellent coffee and cakes/muffins. I did have a Chicken Parma at the bar that was rather leathery. Mitchell St, (08) 8942 2122, www.ducksnuts.com.au
TRAVELLER NOTES
1. A popular alternative way to reach Darwin is on The Ghan from Alice or Adelaide. I met several travellers who'd done this and all had a great time.
2. While Mindil Beach Night Markets are seasonal, Parap (Saturday mornings) and other key markets are year round and (I hardly ever say it) a must.
3. Getting around Darwin is easy. The Tour Tub is probably the cheapest but limited by its stops. The scooter option was by far the most fun and bike hire is also very popular for those not averse to a sweat.
4. Don't think the day and overnight trips to Darwin surrounds aren't worthwhile. AT has written and highlighted the many attractions several times, including Kakadu, Arnhem Land, Litchfield, Tiwi Islands, Katherine, the Adelaide River . . . and remember, Darwin surrounds contains probably the best fishing in Australia.
5. Darwin really knows how to put on a party. Here's our pick of the three best annual events: Darwin Cup, the Melbourne Cup of the north (July 7- Aug 6); Beer Can Regatta (July 23); Seafood Festival (June 17).
FACT OR FICTION

I heard a great number of things about Darwin I'm still not sure about. Here's a collection of the best. If anyone knows anything to the contrary, please email us via editor@australiantraveller.com
1. More bombs fell on Darwin in WWII than on Pearl Harbour (source: many and varied). By sheer number of bombing raids, this doesn't seem totally out of the question.
2. Darwinites drink more iced coffee than beer (source: Robert Marchan on Tour Tub). The "beer is God" perception of the NT is legendary, but I didn't see that much of it personally – and a whooole lot of iced coffee.
3. There are more restaurants than pubs (source: learned local friend's friends). Yes, I'd say this is true by the sheer weight of outlets vs pubs.
4. Inmates at Fannie Bay Gaol were freed during Tracy and the bombings (source: Tony on the Tub). The bombings? Yes, they were all pardoned by the government. For Tracy? It seems unlikely to set them out when indoors is best.
5. Larrakeyah is the site of a mass burial after Tracy, kept secret from the rest of Australia (source: various). It seems farfetched, but then again the official death toll of 66 for a town the size of Darwin seems a little thin.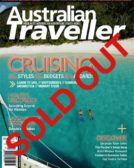 Enjoy this article?
You can find it in Issue 15 along with
loads of other great stories and tips.