Not sure where to stay in Darwin? Here's a few of Australian Traveller's favourites, with options to suit all budgets from luxury hotels and apartments to holiday homes to wallet friendly lodges.
The Vibe Hotel and Adina Apartment Hotel Darwin Waterfront
The 'great value' badge with accompanying silk frill goes to Vibe Hotel Darwin Waterfront. Its location is a superb jumping-off point for travelling around the city, provided you don't mind the man-made surrounds (the hotel's located in the centre of a newish development of shops and bars).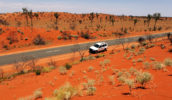 The Vibe's front yard boasts a public wave pool; its rooms feature fresh, modern designs and supremely comfy beds; and the downstairs Curve Café – decorated with bright Aboriginal art and traditional fishing nets – is an ideal spot to catch up on your travel journal and re-energise. (Vibe Hotel Darwin. 7 Kitchener Dr, Darwin City Waterfront, 08 8982 9998, vibehotels.com.au).
Next door you'll find the Adina Apartment Darwin Waterfront, a favourite of AT's Managing Director Quentin Long, who says "It's the perfect combination of space and service to make me feel right at home. It's my first choice of places to stay in Darwin."
Mantra Pandanas
One of the newest additions to Darwin's hotel scene is upping the ante with its chic and contemporary design. Almost sleek and minimalist enough to be Japanese but with a tropical feel throughout its 336 rooms, a lagoon-style pool, great views of the setting sun, the funky East Meets West restaurant and Endota Day Spa complete the picture. Knuckey Street, Darwin, 1300 987 604, www.mantra.com.au
Mandalay Luxury Stay 
One of Australian Traveller Magazine's 100 Great Australian Holiday Homes. This two-story colonial cottage overlooking Darwin's natural harbour and esplanade sets the standard for holiday homes in the area, and will have you reaching for your Panama Hat and gin and tonic in no time. As veteran travel journo Bruce Elder jotted in their guestbook: "I have reviewed accommodation for 12 years for the SMH and, after hundreds of places, this is seriously in my all-time top three. Sensational." Big words, Bruce.
But with its fresh white exterior, wrap-around balconies, mahogany shuttered windows, cream furnishings, scattering of Asian antiques, tropical garden full of fuchsia frangipani and shady pool to escape the heat, Mandalay Luxury Stay is an undisputable picture of good taste. Located just a stone's throw from the waterfront and minutes from the CBD, it's the ideal base from which to enjoy NT's multicultural capital in style. The Esplanade, Darwin, NT. www.mandalayluxurystay.com.au, (08) 8942 3012.
Villa La Vue Holiday House 
Darwin, like every capital city in Australia, is not bereft of five star resorts. But why stay in the obligatory, generic, luxury hotel when the bedroom Villa La Vue is available? It's on Darwin's Esplanade in the heart of the CBD and could challenge any posh hotel in the white bed linen, twin-set china reading lamps, wall-mounted flat-screens, spotless bathrooms, complimentary toiletries and fluffy white towel stakes – only in the comfort your own home.
Why wait for the waiter to bring your eggs when you can cook them yourself in your own gourmet kitchen? Why listen to other people's kids splashing and screaming in the pool when you can swim in privacy beneath shady palms in your own private garden, separated from the outside world by a classic white picket fence?
Cleanliness, convenience, modern comforts; like the Ritzs of this world, Villa La Vue has it all. The Esplanade, Darwin, NT.  www.morethanaroom.com.au, (08) 8942 3012.
Crab Claw Island
If you love to travel in packs and hunt your own food, an affordable getaway can be found at this Balinese-style fishing village in Bynoe Harbour, 40km south-west of Darwin. Beachfront, family and palm garden cabins are less than $100 per person per night, and camping sites are cheaper still. Boat hire is available and you can go mud-crabbing or barramundi fishing with or without a guide (guided activities must be booked in advance, at extra cost).
The Island Bar and Restaurant is open every day, year-round, and serves locally sourced regional produce wherever possible. If you're too tired to cook your dinner yourself on one of the onsite barbecues, the chef can cook your catch for you, and has a range of recipes to suit the local seafood.   www.crabclawisland.com.au
Heading south to Litchfield National Park? Try these family favourites
Grove Hill Heritage Hotel and Museum, 16 kilometres off the Stuart Highway in the middle of nowhere, is a total local secret. Built in the heart of the area's Gold Rush in 1935, the pub is little more than a tin shed – but on the last Saturday of every month (dry season only) the place turns into a buzzing social scene, with a free barbie and live entertainment. You can stay here in basic accommodation. (Kids welcome; Grove Hill Siding via Goldfields Rd, Adelaide River; 08 8978 2489.) Alternatively cattle station Mt Bundy is an hour north and offers safari-style tents for those not of the DIY persuasion plus activities like horseriding and kids are welcome; mtbundy.com.au.
Thinking of going somewhere else? Find the hottest hotels in all the other states:

1. Queensland Hot Hotels
2. New South Wales and the ACT Hot Hotels
4. Western Australia Hot Hotels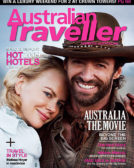 Enjoy this article?
You can find it in Issue 24 along with
loads of other great stories and tips.