Travelling to top destinations doesn't always have to mean paying top bucks. If you know your high season from your low, you'll be able to give pricey, overrun destinations the cold shoulder. By Sol Walkling and Ben Connor.

Let the others fight for a spot near the pool and queue to check in. Of course, AT knows there are good reasons why high season is a popular time to travel to a particular place – and plenty more reasons why it's virtually deserted in the low season. Crossing flooded rivers in monsoon-style rain or running out of fuel in the scorching heat of the outback mightn't be everyone's bag. But it's the in between times, the shoulder seasons, when you'll be able to go easy on your wallet, pack your bag and enjoy some of Australia's most popular regions for less.
It's not all that difficult. Luckily, Australia can be broken up into four general climate zones, with weather best summed up as tropical, desert or Mediterranean. Most of our country falls into the Hot Humid Zone, the northern part of which is tropical and traditionally divided into the Wet and the Dry. Here, winter is the most pleasant time of year, with very warm and sunny days and warm nights as well. Hence why it's peak tourist season in places like Darwin between May and September.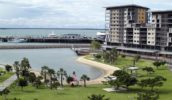 Tropical summer from October to April is traditionally the low season and, if you can't deal with mozzies, hot muggy weather and heavy storm clouds, it's best avoided. However, the wet can also be a very rewarding time, with dramatic thunderstorms and waterholes filled to the brim, teeming with new life. If you do go, stay on sealed roads. You'll also need to check with individual operators regarding prices, as some have caught on to the wet season travel trend and are charging higher rates for specific activities. Whatever you do, AT advises you to be wary of November, as that's the time for so-called "mango madness" – a northern term for people going troppo due to excessive heat and humidity in the build-up to the wet. The best time to go is the Southern Hemisphere's autumn, if you can stand the heat. Towards the end of the wet, you'll still be able to see everything in bloom and watch the wildlife, but the chances of swimming away in your own sweat rather than in a waterhole are greatly reduced. May and June would be a good time to go too, with crowds still down – provided you can snap up some bargains.
As you progress further south into the Hot Dry Zone, through South Australia and parts of central WA and NSW, winter is still high season, with balmy temperatures around 20-24ºC and cool nights. Shoulder season is April to June and a great time to travel if you want to save your pennies. In summer it gets really hot during the day – temperatures of 40ºC are fairly standard. But, if you can stand the heat, it's still okay to travel here – provided you always have enough water and wear sunscreen. We'd just advise you to be active in the morning and seek out waterholes for the rest of the day.
If you travel to the southern part of the Hot Dry Zone, near Uluru for example, you'll find the winter much colder; not ideal for camping unless you bring an extra-warm sleeping bag – there's frost in July and August. Both autumn and spring are great times to travel if you're looking to beat the crowds. The region is stunning, particularly if rain's fallen in spring or autumn, as you'll be treated to carpets of wildflowers. We also recommend travel to SA and the Flinders Ranges during this time of year.
Progressing further south, you'll enter the Temperate Zone in the coastal regions of NSW, SA, Vic and southern WA. Here you'll find a much gentler climate, Mediterranean-like, permitting year-round-travel. Summer tends to be the high season in places like Melbourne, but to go easy on your credit card both low season and shoulder season can be quite pleasant. The weather in this zone is much more changeable than in the tropics and rain can fall anytime of year – but it usually doesn't last very long. "Four seasons in one day" is the general rule of thumb in Melbourne, so you want to be prepared by packing a range of clothes. And if you travel to the cooler regions of this zone, eg Tassie, highlands and mountains, it really depends on what your preferred activity is, as it can be warm in summer (with an intense sun above the treeline) and snowing in winter. In Tassie, you'll actually get four distinctive seasons. To avoid the high season in places like Thredbo, travel in autumn if you like walking, or in spring if you want to fly down the slopes. Weather can be quite unpredictable in the Temperate Zone, so make the most of last-minute deals.
The Warm Humid Zone can be found around the coastal regions of Qld and North Coast NSW. Summer here is very humid and warm and not a good time to go, if you plan on moving from your hotel room or sun lounger by the pool at all. Winter is the traditional high season, when days are mild in the southern part and warm further north and, generally, much more pleasant without the humidity – there's also less rain. But, if you don't mind a little sweat, we suggest you theme your holiday around the water, include activities like snorkelling, and travel in autumn or spring. Visiting the GBR in the low season isn't a good idea, as average water temperature off Cairns is around 28ºC. Travel advice also includes borrowing fashionable stinger suits all year round now.
Getting off the beaten track is also a great way to save money – and explore some lesser-known regions. Lucky, then, that we've got a map of the ten most popular (and crowded) regions for '07, compiled by Tourism Australia (image gallery, above). If you must travel to these areas, we recommend going in the shoulder seasons to grab yourself the best bargains.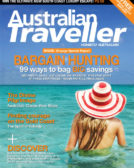 Enjoy this article?
You can find it in Issue 25 along with
loads of other great stories and tips.