Walking in the footsteps of Australia's elite, Jennifer Pinkerton uncovers a Top End stay – and a curious one, at that.
Moonshadow Villas is a sought-after 'celebrity' retreat and your privacy is guaranteed." Do go on, I whisper to the screen. A vine of adjectives trails the homepage. Breathtaking, exotic, five-star, tranquil, tropical-bird-and-orchid-filled.
Then, there among the stay's testimonials, sits someone I recognise. Germaine Greer. "Thank you. GG," she signs off. GG mightn't seem a likely arbiter of fine taste but the thing is, she's interesting. And higher-echelon places to stay in Darwin are, well, less than so.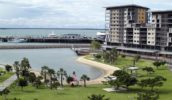 There's a saying though, that with gain comes pain. My pain comes in the form of a booking system – a challenge I anticipated due to word on the street. Moonshadow is well-known around these parts as being incredibly tough to book into. True to form, owners Moya and Peter are polite and pleasant, but it takes eight calls, seven emails and two online booking requests to secure a stay. I can't help but wonder how much they want my business. Or anyone's for that matter.
Still, with a location two kilometres from the CBD – just a palm tree's sway from the Botanic Gardens – Moonshadow promises rainforest-y, tucked-away paradise. I'm seduced. Upon our arrival at the 'Frangipani Villa', there's no one in sight. But that's a deliberate move.
Moonshadow's philosophy is to provide an atmosphere where guests feel like they've just returned home – to their own home. So it's just us, an unlocked door and, of course, a villa. Antique Chinese entrance doors give way to a short run of stairs. At their base rests an in-ground spa, fringed with red-glazed pots and tall wisps of bamboo. 
Inside, the space is chilled cool like a lassi. A pleasant escape from the heat. Yellow-painted walls enclose a living room of heavy wooden furniture and large-scale art: mostly bold Balinese women pressed together, their lips ruby red and hair draped with flowers. I note Peter's signature on each piece. One of his "many bad talents", he later tells me as I leave. 
The villa's kitchen is modern. Aggressively so. A tire-print stainless steel bench top caps an island recess. It bears a fresh bunch of helliconia, a signature stem of the Top End.
I bound up jarrah wood stairs to find two bedrooms. With their navy gingham bed throws and ornate carved Asian bed heads, the styling swings between 'Bali' and 'country homestead'. Incongruent? I think so, but a soft king bed amply makes up for this minor quibble in taste.
I hunt for a welcome pack or info about our new home. None to be found. Perhaps another tactic to render Moonshadow less touristy? While I like the sound of this idea, in practise it's perturbing. Instead of feeling like someone who's just won the lottery, I feel a tad like an invader.
Outside we pad around like detectives, treading pebbled paths to the manager's home. He's not there, but his entertainment cabinet is. It's crammed with documentaries and modern histories of northern Australia. There are art books, too. The kind that'd do GG proud. I bundle 1001 Nudes under my arm and retreat for a lazy afternoon on the couch.
Later, as the sky breaks and monsoonal rains thud at our roof, we break our schedule of idling and make a beeline for the guest pool.
A figure appears in the trees. It is co-owner Moya. But just as I think she'll pass without word, she stops. She stands by a small statue and touches its head. "If you need good luck, rub this Ganesh. It was blessed by a Balinese priest." As quickly as she arrives, she vanishes. Celebrities like GG may require steely levels of privacy. But we welcome this sign of life. It helps us settle in for our stay.
Approaching Ganesh, I climb from the pool, splashing polka dot drips onto stone. I realise then, that it's here in shared spaces – the bookshelves, the palms and the pool – that Moonshadow's sweet spot resides. GG's endorsement holds sway. But like the woman herself, it's a clunky mix of 'thorny' and 'brilliant': a refreshing patch of rainforest that's short on bedside manner.
The details
The verdict: Despite the slow-as-a-mule booking system, these are mellow, private, lush villas, set amid peaceful grounds.
The score: 13/20; good
We rated: The outdoor rain shower – an artwork in itself.
We hated: The breakfast offerings. Supermarket bread and Kellogg's cereal mini packs don't scream 'five-star'.
Where: 6 Gardens Hill Crescent, The Gardens, Darwin, NT
Notes: From $449 per night, minimum three-night stay; ring to discuss available discounts: 0408 372 273; moonshadowvillas.com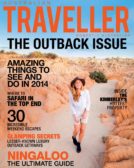 Enjoy this article?
You can find it in Issue 55 along with
loads of other great stories and tips.