Real readers of Australian Traveller reveal their Australian Travel experiences The moment the weather turns chilly, AT reader Susan Belperio and her three croc-loving boys have their eyes on a return visit to sunny Darwin.
Hear ye, hear ye: all despairing parents drop everything and read on. Winter school holidays driving you mad? Tearing your hair out as they climb the walls while you wait it out for a break in the wild and woolly wintry weather? Then look no further. Families of the world unite and head to Darwin. Pack your bag with bathers, sarongs, snorkels, sunscreen and thongs. You won't need a jumper, but don't forget the flyspray.
Just a few hours north by plane awaits a tropical paradise that experiences only two main seasons: the wet and the dry. If you like dramatic thunderstorms, high humidity and unbelievable cloud formations with the occasional cyclone thrown in, then the wet is the time for you. Expect hot days (nothing above low 30s), with beautiful balmy evenings. Pack your picnic rug and head to Mindil Beach northwest of Darwin Harbour, which transforms into a bustling market on Thursday evenings. The tantalising aromas of authentic Asian cuisine will prepare you for the gastronomic delights that abound. This magic market is also a smorgasbord to the other senses, with the sounds of live music, didgeridoo and other entertainers. Have an open-air massage, pick up quirky souvenirs and enjoy your sensory feast.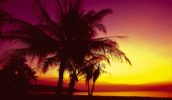 Kids taking a while to get used to the midday warmth of the Top End? Don't panic. Head to the adjacent Botanic Gardens under the shade of a tree and let them paddle about and build rock dams in the creek, which is part of the children's evolutionary interpretative trail. Opposite this is a massive tree house they can climb to their heart's content, while parents pull up a seat on the boardwalk and enjoy an alfresco lunch or a good book.
Don't miss the Leanyer Water Park (it's free), a government initiative to provide safe, cool, watery conditions. Just for the kids? Nonsense. Mums and dads, pack your swimmers also. Everyone will be having too good a time to notice you coming down the waterslides, or to experience the monumental bucketing that drenches everything in sight roughly every three minutes throughout the day.
If your kids prefer an air-conditioned interior, you could wile away the day at the Museum of Arts and Sciences. This is a museum like no other, with a breathtaking display of Indigenous art and a children's interactive room. Don't miss the Cyclone Tracy exhibit, which includes a small room, experienced in pitch-black conditions while an eerie tape plays archival sounds from that terrifying Christmas Eve in 1974. (It's easy to see why there's now such a stringent post-cyclone building code governing the construction of new homes up here.) Another favourite is "Sweetheart", which was an enormous saltwater crocodile with a peculiar taste for aluminium dinghies (and occasionally their occupants) captured in the nearby Finnis River.
Winning well-deserved accolades is the Territory Wildlife Park, 74km down the track. (The Stuart Highway, which stretches from Adelaide to Darwin, is affectionately known as "the track." You can do one of two things to it: you can go up it, or down it. That's all). Encompassing many representative habitats within, this Park allows a unique preview of much of the flora and fauna of the Top End. You need to put aside a whole day for this attraction. The kids have a ball riding an open-air train, which drops you at various stops.
Highlights include the "Birds of Prey" flight deck, where representative raptors perform impressive flight stunts for their trainers. The walkthrough aquarium allows you to get up close to large crocs, stingrays, swordfish, turtles, barramundi and more. My favourite is the aviary, which takes you from ground level up through the treetops, and down through a tropical monsoonal rainforest walk.
For those wanting the ultimate cool-off after a fabulous day, the nearby Berry Springs Nature Reserve, with a series of safe pandanus-lined swimming holes, is ideal. At the top is a pristine, spring-fed waterfall. Children will be particularly delighted to snorkel around among the variously sized fish that call this place home. For the more adventurous, it's possible to do a Houdini and disappear behind the waterfall, sitting very snugly on a small ledge with just enough room for two or so. Not for the claustrophobic, though.
Can't get enough of crocs? Visit Crocodylus Park for the morning. Here, crocodiles leap from the water to snatch chicken carcasses dangled above their pond by handlers. The bravest of the kids can then go around and hold a baby saltwater crocodile.
Our children have already got their next visit planned. They want a week at the water gardens and a week under the waterfall at Berry Springs. "Great," I muse to myself, "I'd actually thought of visiting Kakadu at some stage, the real jewel in the crown." But for now I'll be happy just to experience yet another warm, carefree and memorable midwinter school holidays.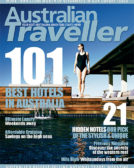 Enjoy this article?
You can find it in Issue 9 along with
loads of other great stories and tips.