There are really two things you have to do before you die regarding Australia's largest national park: see Kakadu in the wet (December to March) and see it in the dry (all other months). In either case, the place has a reputation for overloading the senses.
"A pre-Noah's Ark, not to mention the pre-Noah art. Walk, drive, swim, watch the wildlife and be reminded of the World Heritage worthiness of this beautiful realm."
– John Borthwick 
In the wet the park drowns in water, heat, humidity, bright tropical colours, nature in the raw – all the fundamental elements that make up Australia's unique natural world. Many say that to see the park in the wet, or early dry, is the best – the only – time.
While that verdant splendour is missing in the dry, it's a much more comfortable time to visit Kakadu (ie, there's drought as opposed to torrential, teeming rain), and more areas are accessible.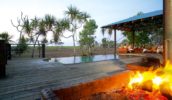 There's hardly the space here to describe the extraordinary diversity of flora and fauna, including 75 different kinds of reptile (more than you'll find in the whole of Europe), 26 types of bat and 10,000 species of insect. And did we mention the 2000 different kinds of plants? Plan to get up early and head off the beaten track a little – you'll be rewarded with vistas of remarkable colour and significant wildlife. Kakadu is also the place to see plenty of Aboriginal rock art, about which you can learn more on page 96 as entry No. 14 on this list.
Did you know? Kakadu has three main rivers: the West, South and East Alligator Rivers. Of course, there are no alligators in the park – just crocodiles (both types, friendly freshies and nasty salties). English navigator Phillip King mistakenly named the rivers after the large numbers of crocs, mistaking them for gators.
** This is our original 100 Things to Do Before You Die. First published in 1996. There is an updated 100 Things To Do In Australia Before you die, published in 2011.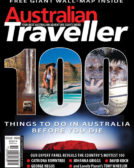 Enjoy this article?
You can find it in Issue 8 along with
loads of other great stories and tips.