Incredible artworks and inspiring scenery: get to know the art and soul of the Northern Territory.
Not even 150 years ago, Europe's old masters were painting works of art that have lived on in the collective imagination ever since.
More than 300 times further back in time – up to 50,000 years ago – the first 'masters' of Kakadu were immortalising their stories in the gorges, rock outliers and caves.
It is these same incredible artworks that still draw enthralled crowds to this World Heritage wilderness area that is infinitely more timeless than a Rembrandt or a Van Gogh – and the Starry Night above is as real as it gets.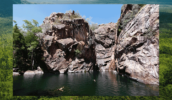 These priceless works of art here in the lush, wild heart of the Northern Territory are so very accessible, too, with walking trails to all three of Kakadu's main art 'galleries' – Ubirr, Nourlangie and Nanguluwur – designed to take visitors through the art in a natural progression.
At least a half-day is needed to view each of these amazing art areas, concentrated along Kakadu's famous and very dramatic escarpment; bring your camera gear.
In the drier months, from May to September, free guided tours by National Park rangers are popular and help make the most of a visit here (parksaustralia.gov.au/kakadu), since the stories and history behind each work are astounding in their importance to Indigenous Australian history and mythology.
The art doesn't end on the escarpment. A rich appreciation of both old and modern local art is a real feature of any visit to Kakadu's main tourist areas.
The crocodile-shaped Mercure Kakadu Crocodile Hotel houses a fascinating gallery named Ochre, concentrating especially on the four colours of the earthy paint for which the place is named: yellow for the sun, red for the blood of Mother Earth, black and white for bodies painted in ceremony.
Artist in residence Selone Djandjomerr is happy to give guests a tour and to share some of his people's artistic heritage.
For a deeper understanding of the ancient spiritual and natural rhythms of Kakadu, an extended stop at Warradjan Cultural Centre is essential.
The land's traditional owners have worked hard to create this highly interactive and visual collection of old and new, from videos to artefacts, that together paint a much fuller picture of this wonderfully complex region.
Don't miss the seasonal 'clock' that details Kakadu's six seasons, tracking the cycle of the year from 'knock 'em down' winds to the pre-monsoon build-up.
If you are looking for your own artistic inspiration, arguably the single most photographed place in this altogether highly photographable park would have to be the famous Yellow Water Billabong.
Pink waterlily flowers stretching above mirrored, insect-rippled waters provide the kind of landscape that Monet would have dreamt about.
Yellow Water Cruises traverse these waters several times a day to view the waterways' 280 bird varieties, sleepy crocs and even brumbies and buffaloes; some visitors have been known to take three cruises in a day, to see the changing light and animal life keeping their own eternal, diurnal rhythm.
THE DETAILS: KAKADU, NORTHERN TERRITORY
STAYING THERE
Mercure Kakadu Crocodile Hotel, Jabiru: Recently upgraded, with gardens and a shaded pool, plus Escarpment Restaurant for local cuisine.
Cooinda Lodge and Camping Ground, Yellow Water Billabong: Lodge-style accommodations, camping and caravan facilities, with a swimming pool, shop and bistro.
PLAYING THERE
Yellow Water Cruises: A must-do; daily cruises start at sunrise and run through to sunset.
Spirit of Kakadu 4WD Adventure Tours: Some of Kakadu's biggest attractions are on the itinerary, operating from May to October.
For more information and bookings visit: kakadutourism.com
More about Kakadu's rock art: parksaustralia.gov.au/kakadu/people/rock-art