Heidi Gill gets back to basics in Kakadu and finds there's nothings better…
I wake up covered in sweat and engulfed in humid tent air. Ah, this feels good – like being on a health retreat but cheaper.
The air is not so muggy outside, instead I am greeted by the sparkling orange yellow sun and the beautiful orange sand that Australia's Outback is known for. A slight breeze tickles the sparse eucalypts – I breathe it in.
I head to the 'shower', which is water I bucket over myself from a single bore water tap. Nothing has ever felt so refreshing. This is a long way from the luxury hotels (well, actually the Gagudju Crocodile Holiday Inn is only 16 kilometres down the road but more about that later), but for me this is how to experience Kakadu – at least for some of your time there. 'Country' is not just to be looked at, but to be part of.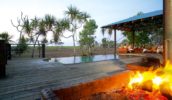 This area of Kakadu is country to the Mirrar clan who, according to anthropologists, have been connected to this land since 40, 000 BC. Mirrar country encompasses parts of Kakadu National Park, the mining town of Jabiru and the nearby Ranger and Jabiluka Mineral Leases.
I am lucky enough to be invited to stay on their land, but if you don't get an invite there are a couple of campgrounds near Jabiru where you can set up a tent and live the simple life.
Around the region are sites and sights to behold. Nourlangie Rock and Ubirr contain Aboriginal art sites that document ancient traditional stories such as that of the Rainbow Serpent, right up to first contact with white people. There is a vast array of art, some dating back to 1500 years ago, which can be seen in caves where Indigenous families once set up camp to enjoy the abundance of local food sources.
Ubirr Rock is a beautiful place to watch the sun set from – we go there in the late afternoon, take in the amazing rock art and look over the stunning, surprisingly green valley as the sun goes down.
In the evening I join the group and sit by a campfire where we talk and sing songs, while stars glisten like silver in the vast sky above. This is living.
The following day we go to the aforementioned Gagudju Crocodile Holiday Inn for lunch. Gagudju is part of of an indigenous-owned collection of tourist facilities called Gagudju Dreaming, which also runs four-wheel drive tours, a cultural centre and other accommodation.
Located in the town of Jabiru, this hotel, built in the shape of a crocodile, is five-star luxury and a great place to be to book tours, car hire and find out about the attractions of Kakadu.
There we drool over the clear blue water of the pool, and revel in fresh salads after days on lentils and rice.
Having said that, while it's nice to indulge in a bit of luxury, I recommend visitors go bush during their stay. Cooinda camping ground (also owned by Gagudju Dreaming) is nearby and still has all the facilities you need. Or if you manage to get in with the locals you may get to stay on their land as I did.
There is nothing like spending your nights under the Outback stars, and starting your morning early to beat the heat with a cool shower (or bucket of water), as you emerge glowing from your tent. That was Kakadu for me.
//  Heidi Gill is a member of our Virtual Internship Program. If you're a photographer or writer looking to break into travel journalism, we're here to help you get a leg up. To find out more, email us at  interns@australiantraveller.com