Cutta Cutta Caves and its rare residents
Blind shrimps. Yep, they do exist. In two places in the world: Madagascar and one itty-bitty cave in the NT. Cutta Cutta caves, just south of Katherine, have a lot more going for them but in terms of pure "get outta here" factor, the blind shrimps have it. The cave system isn't extensive compared to some of the larger southern states but pack a massive punch for their size and interest.
The blind shrimps share their habitat with two species of rare and endangered bats: the Orange Horseshoe and the more spooky Ghost Bat. Both are incredibly timid, so public access to the system has been limited to leave the poor critters alone. And to make sure there's something to spook everyone, the harmless brown tree snake hangs out on the ledges in the cave system.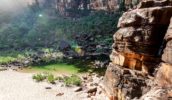 As you descend the short 15m into the cave you notice the temperature starts to rise; the cave system averages about 35° and humidity hovers at a sweaty 80-90 percent. So while you explore, you can also sauna.
While westerners are spooked by bats and snakes, the stalactites and stalagmites gave the traditional owners of the land, the Jawoyn, the heeby jeebies; they never enter the cave system as they believe that's where the stars live during the day. "Star" in the local Jawoyn dialect is Cutta – hence, Cutta Cutta, the cave of many stars.
WHERE // 27km south of Katherine.
DID YOU KNOW? // Cutta Cutta Caves were the site of a World Record attempt – an antisocial Territorian spent 60 continuous days living there in the '70s to break the world record.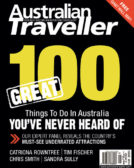 Enjoy this article?
You can find it in Issue 14 along with
loads of other great stories and tips.