We countdown the ultimate Australian destinations where you can really unwind and indulge – #7 Longitude 131, Yulara, NT
07
LONGITUDE 131°
Yulara, NT
TOP CAPACITY: 15 luxury pavilion-style tents means a maximum of 30 guests can stay here at a time.
WHAT TO EXPECT
Longitude 131° is an exclusive luxury safari-style lodge within sight of Australia's most famous landmark. There is no finer way to experience the red centre of Australia than sleeping in draped "tents" with astonishing views of Uluru. A stay here takes you into the heart of an iconic landscape with some pleasant soft touches, particularly helpful in the heat of summer or cool of winter evenings. Private guided tours are included in the tariff and give Longitude guests exclusive access to parts of the National Park.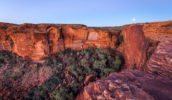 Sunset drinks and oysters (amazing in the desert) on a private dune with the best views of Uluru is the stuff of lifelong memories. The equally memorable communal Table 131 experience takes dining under the stars to a whole new level. The sky sparkles brighter than a diamond vault in Antwerp. The luxury tents are well positioned to let The Rock hypnotise guests. Each tent is named after an outback pioneer whose story is pictorially displayed inside. A soft-as-a-cloud king-size bed takes pride of place facing Uluru, and is appreciated because the daily touring is mentally and physically exhausting.
ACCOMMODATION
Most affordable room: All rooms are the same price but some have slightly better placement than others. The draped canopy gives the large bedroom area an airy feeling. Floor-to-ceiling glass doors make the most of Uluru – that's why you're here, after all. The view makes you feel like it's just you, the rock and a Bedouin tent with a Bose stereo. The tent's smart design puts the bathroom (shower only) behind the living space – which features the massive bed, a single sofa and small table. House-branded toiletries do not rock your world but hey, that's not exactly why you are here. $2190 per night with a minimum two-night stay includes all meals, standard drinks and some off-site activities (see below).
Best room in the house: There are four tents that are slightly closer to the rock, allowing uninterrupted views and the greatest amount of privacy. They are tents 12 to 15, otherwise known as Severin, Stuart, Tuit and Webb.
ACTIVITIES
 Included in the Tariff: Mala and Kuntja Gorge Sunset Walk and Drinks. A private experience for Longitude guests only, you can watch the vivid changing colours of the rock as its nocturnal life begins. Kata Tjuta, Walpa Gorge and the Valley of the Winds Tour. The real surprise of the Red Centre, most guests actually prefer Kata Tjuta to Uluru! For the intrepid, the Valley of the Winds walk takes you deep inside the structures otherwise known as The Olgas. Or you can take the easier and less straining Walpa Gorge Walk. Sunset Uluru and Table 131: A private dune experience with the best views of Uluru at sunset.
 Activities that are so special they incur extra charges include: camel, Harley or helicopter tours around Uluru.
BEST FEATURES
 Access all Areas: You have exclusive access to parts of Uluru and Kata Tjuta with the best guides. It is easy to think you have the entire place to yourself.
 Position, position, position: No other accommodation spot has views from your bed of the Rock.
 Call me soft but a cool towel in the middle of the desert after a hard day's walk becomes ridiculously prized.
 Small guest numbers mean you not only get a lot of information (because you can ask every question you want), but a lot of attention.
DOWN SIDES
 It's a bit tired: the old girl needs a lick of paint and some reinvestment in the dining experience. Longitude recently changed hands and through the protracted sales process (it took more than 18 months for the sale to be completed) the lodge didn't receive the love and attention she deserved.
 It's a bit tiring: the itinerary can be hectic with little chance for rest. Most packages are for two nights, with just a single afternoon to relax. The itinerary starts pre-dawn and touring continues till well after dark to make the most of the location, so you are on the go a lot of the time. If you want to relax and recuperate as well as explore Australia's heartland, book an extra night.
 Guides are not from the local indigenous community, so cultural exchange is limited. Hopefully the new owners will rectify this.
THE FOOD
Varied and surprising. Table 131 is a communal dining experience under the stars, where the food is usually great but I must admit there was a big miss on one night of my stay. Fantastic champagne, Coffin Bay oysters and smoked salmon canapés on the dune at sunset are outstanding. Communal dining can be great or tiresome when the Italian honeymooners surrounding you have little English and your Italian is terrible. Meals at the Dune House are excellent and the open bar a lovely touch. It can be a little hard to find your own space, however a private meal in your tent is an option. Warm fresh scones and muffins for breakfast are appreciated on chilly sunrise tours.
THE DETAILS:
Longitude 131°
1300 134 044; www.longitude131.com.au
Words by Quentin Long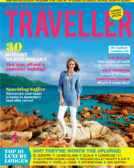 Enjoy this article?
You can find it in Issue 41 along with
loads of other great stories and tips.