AT reader Jansen Spencer heads to the NT and finds a moment of absolute bliss at Buley Rockhole We land in Darwin at 6.15am, after a very comfortable flight from freezing-cold Melbourne, excited and eagerly awaiting the last state or territory in Australia I am yet to visit.
With my father Paul and brother Kristian, we find our way to the Avis desk, sign a few forms and are on our way. There is a mighty whoosh as we walk though the door and into the car park. Even at 6.50am, the temperature already feels like 30 degrees on our fragile, white, Melburnian skin.
In the darkness, we click the car's remote until a flash of headlights identifies our hire car, a Mitsubishi Lancer. I am thrown the keys, which in our language means "you're driving", and we head straight down the Stuart Highway.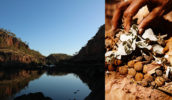 Dawn is breaking and we have been on the road for only about half an hour when we need to pull into a petrol station to grab some water. This is when I first see the redness in the gravel on the sides of the road and the abundance of palms above my head. At my feet, there is a very squashed cane toad – we must be up north.
With maps sprawled across the dashboard we set out for our first destination, Litchfield National Park. The two-hour trip allows time to sit back and enjoy the sunrise over flat, harsh plains. Sunlight flickers through the trees at 130km/h, infusing the landscape with colour and instilling in me a feeling I've never had. Being a photographer, my mind starts racing with thoughts about what can I photograph, how will it look and what surprises will we come across.
We arrive early at Litchfield Tourist Park so the cabin we have booked isn't ready just yet.We decide to head back into town to get some bread, milk and all-important beer. But it's only 9am so the shop is still shut and the pub is closed. A bit farther on there is a little town called Rum Jungle. Population: very small. We decide to head there.
We find an open milk bar where we buy the Aussie staples of meat, tomato sauce and bread, as well as mozzie repellent and three bags of ice.
On our return to Litchfield, our Drover's Cabin – one of three – is ready and waiting. It has two double beds and a roll-out, a simple kitchen with a TV, and a great balcony with four chairs and a small barbecue. It looks out over the park and pool and is surrounded by lush tropical plants. We're immersed in the mesmerising sounds of nature.
Our first port of call is Buley Rockhole, which is actually a series of rock pools and waterfalls. We pull up and head straight in. My brother goes first – with a small yelp because it's a touch on the cold side – and me a very slow and excruciating second. There would have to be 40 people down here swimming, sunning, jumping off rocks and exploring, so it's not great from a photographic perspective – too many people!
Back at the cabin we down a well-deserved beer, and I make a plan to head back down to Buley first thing before sunrise.
After 45 minutes of outback driving in the dark, I make it back just before sunrise. There's not a soul in sight. This would have to be one of the most spectacular moments of my life, and not just because I take some spectacular shots. Being alone in nature, watching the golden rays of the sun hitting the tops of the trees as if to say "it's time to start a new day", flowing waterfalls and spillways never resting, just rushing pure clean clear water by my feet and tripod. Colours are so much richer at this time of day – it's a must-do for anyone who wishes to beat the crowds and soak up the experience.
It's a moment of peace and beauty I will never forget.
Reader rewards
Calling all australian travellers!
Send your travel tales to editor@australiantraveller.com (maximum 800 words). If you've always wanted to be a published travel writer, here's your chance!
1st Prize
AT Reader Tom Corra has won a two-night stay in the Buffalo Room at Lindenwarrah at Milawa Hotel, in north-east Victoria's alpine food and wine district. Valued at $710, the package includes breakfast. lancemore.com.au/lindenwarrah/
2nd Prize
AT Reader Janson Spencer has won a Gorillapod Focus with Ball head X valued at $199, to help keep your pics shake-free. For more info on Gorillapod products, go to www.joby.com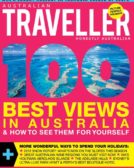 Enjoy this article?
You can find it in Issue 44 along with
loads of other great stories and tips.