At the geographical heart of Australia, the best way to appreciate Alice is from Anzac Hill around sunset. Smack in the centre of town, this little hill supplies 360-degree views of the Alice grid and, to the south, the unfolding spectacle of the ancient McDonnell Ranges as the sun paints shifting hues of orange and crimson across them.
Surrounded by desert, the inexorable flow of somewhat dirtied blow-ins decked out in Akubras with corks, thick socks and cargo pants provides unparalleled people-watching opportunities, while the rich mix of its 28,000 residents promises depth and grit.
Aboriginal communities, desert-hardened white Australians, lesbian communities (this is Australia's lesbian capital after all), a large US contingent (employed at nearby Pine Gap) and migrants from all over – many of whom run great restaurants – are worth seeking out.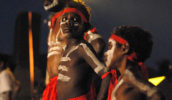 "If Darlinghurst is the male gay capital of Australia, then the Alice deserves mention as the female gay capital. And what does this sexual diversity bring? Vegan cafes, socially aware shops and a wealth of community radio stations, not least in the suburb of Gillen." – Justin Wastnage
Todd Mall is the place to stop for Indigenous art galleries, or for a drink at iconic Bojangles. There's an annual camel race, the Alice Springs Rodeo and the famous Henley-on-Todd Regatta. But most of all, it's the desert lifestyle of the locals that makes Alice unmissable.
"Here it doesn't matter who you are or what you do. It's a place where everybody is accepted and welcomed," says local AT Reader Sue Tucker. "I spent ten years travelling this amazing country, visiting a whole lot of coastal, country and outback towns. Fourteen years on, would I want to live anywhere else? No way!"
Where? // 1500km (17.5hrs) south of Darwin, 1530km (18hrs) north of Adelaide, and 2775km (1day, 9hrs) northwest of Sydney.
Did you know? // Local legend says that if you see the Todd River fill three times, you'll be stuck there for life. This is understandable; after big rains, Alice, dressed in wildflower colours, is a beautiful sight to behold.
Return to: the 100 Best Towns in Australia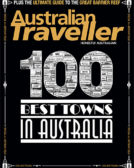 Enjoy this article?
You can find it in Issue 26 along with
loads of other great stories and tips.