You'll have visited Uluru and walked around Kata Tjuta, and you may think you've seen it all. But you're missing out on the green jewel in the Red Centre's crown: Kings Canyon.
The breathtaking sandstone chasm plunging 270m is one of Australia's most dramatically beautiful places – a slash of deep green in a red landscape. Hidden deep in Watarrka National Park three hours north of Uluru, Kings Canyon offers two trails: the Creek Walk and the Canyon Walk.
"Vertigo with orange walls. It's a bit of a hike to the top – so start at dawn – but no-one whinges about the rewards. Take a dip in the springs on your way back down."
– John Borthwick
The 1.5km Creek Walk is quite flat, up the centre of the canyon to a lookout point. The Canyon Walk, however, is for the committed walker only, as the first 300-400m are straight up a steep incline at the canyon edge. It's hugely rewarding, though, with delights all the way round, including the Garden of Eden valley and the Lost City's weathered rocks.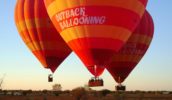 Did you know?
The original custodians of the park are the Luritja people, and they're still represented among the three Aboriginal groups that live in the park. The name Watarrka comes from the Luritja name for Umbrella Bush.
How to get there
Qantas and Virgin Blue have regular flights to Alice Springs from most major cities in Australia.
There are several stopovers on the way to the Canyon, including Jim's Place on the Stuart Highway, as well as Erldunda and Mt Ebenezer. Kings Canyon is located in the Watarrka National Park, 323km southwest of Alice Springs.
Best time to go
Anytime, but beware that it is very hot during the summer months.
Further information
Useful websites:
www.nt.gov.au/nreta/parks/find/watarrka.html
Parks and Wildlife Service NT information on Watarrka National Park
www.kingscanyonresort.com.au
Info on Kings Canyon Resort, 7km from Watarrka National Park
** This is our original 100 Things to Do Before You Die. First published in 1996. There is an updated 100 Things To Do In Australia Before you die, published in 2011.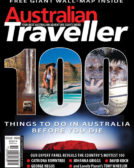 Enjoy this article?
You can find it in Issue 8 along with
loads of other great stories and tips.