Kerry van der Jagt shares a tail from the top end with Craig Le Rossignol – the Northern Territory's newest oil tycoon who is making the Desert Bloom.
There's something unsettling about shaking hands with a man holding two kangaroo tails. Especially when he looks a bit like Jack Nicholson in The Shining. But that's the outback for you.
In Down Under, Bill Bryson describes Central Australia as an "odd and unfathomable place." He even refers to it as the type of environment that wants you dead. But amid the dust, flies and inexpressible heat, Craig Le Rossignol from Oak Valley is successfully growing olive trees – and dishing up the odd kangaroo tail or two.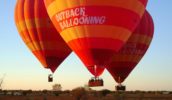 "…amid the dust, flies and inexpressible heat, Craig Le Rossignol from Oak Valley is successfully growing olive trees…"
Oak Valley, a remote outstation on the old Hugh River Stock Route about 100km south of Alice Springs, was established in 1990 by Craig's parents, Robert and Mary Le Rossignol, on property that was part of Mary's father's traditional land, granted to him under the Land Rights Act back in the '80s. Clinging to the edge of the Great Victorian Desert, Oak Valley's scenery – blazing red soil, dramatic rock formations and the native Desert Oak after which the property is named – is magnificent.
Craig is a highly entertaining, knowledgeable and charming host. He also fancies himself a bit of a bush cook, hence the kangaroo tails. Craig singes them in the open fire, rubs the hairs off and finally bakes them in the hot coals.
While we wait for them to cook (and I work on overcoming my Skippy complex), Craig talks about his plans for the future. "I want to develop Oak Valley so my family and the rest of the community can become self sufficient," he explains. "We don't want to depend on other people."
"…two years ahead of schedule, they produced the Northern Territory's first commercial batch of olive oil…"
In October 2000, Craig's family planted 400 Manzanillo and 100 Arbequina olive trees. By 2007, two years ahead of schedule, they produced the Northern Territory's first commercial batch of olive oil.
It was an exciting day when the first batch dribbled off the press. They made 45 litres from 400kg of olives. "Not counting what we wasted when we rubbed it all over ourselves," adds Craig with a grin.
There were many hurdles to overcome; from sinking a 60m bore, installing irrigation pipes and digging hundreds of holes, to learning to prune from a textbook and, finally, struggling to operate the new oil press with an instruction manual written in German. "But even when we didn't know what we were doing," says Craig, "we just gave it a go anyway."
Funding received from the NT government in 2006 provided the community with a grant to help establish them as (olive) oil tycoons, a condition of which was that Craig, Robert and Mary complete training to Certificate II and III level.
What satisfies Craig most about the enterprise is that it has created a sense of worth and pride in the community and shows that Indigenous people have the expertise to run a successful business. Cathy Freeman, ambassador for Aboriginal Tourism Australia, has dropped in on Craig at Oak Valley. "We soon had her digging holes," Craig laughs.
As well as olives, the Le Rossignols grow table grapes, lucerne, sandalwood trees, bush raisins, asparagus, apricots, figs, watermelons and mandarins. They sell their surplus fruit and vegies locally or give it away to their extended family, neighbours or visitors. "I'm not doing this for myself," Craig says. "It's for my kids. Hopefully, having all of this will entice them to stay on our land when they grow up."
Oak Valley is experimenting with a variety of crops, including bush tomatoes, as part of an ongoing project looking to establish a wild bush foods industry. "But we ate 'em all," says Craig, matter-of-factly. All part of the research.
Craig also runs Oak Valley Tours and brings visitors out for overnight camps. He may have embraced modern methods of farming, but he hasn't lost his deep respect for the land.
"We don't own the land," he says. "The land owns us."
"We don't own the land," he says. "The land owns us." Craig likes to take his visitors into the bush and show them traditional bush foods like the witchetty bush, the wild banana vine and Mulga tree used for making boomerangs.
He also takes visitors to see 2000-year-old traditional cave hand paintings and rare petroglyphs. "I want visitors to understand our spiritual way of thinking and our connection with the land," he says.
As an artist, Craig's contemporary dot paintings portray his connection with the land but also emphasise the importance and location of water. His paintings tell who he belongs to, and what country he belongs to. He has a good collection of his own and other local artists' work, which he loves to show off. And don't get him started on his fossils – there's a rich, inland sea fossil field on the property that he's happy to share with visitors. "The best Cambrian collection in the Northern Territory," he says proudly.
Once the tails are cooked, Craig expertly snaps them into manageable chunks, peels the skin back like a banana and shares them around. The steaming flesh is stringy but surprisingly tender. It tastes a bit like a lamb shank. The sand, grit and flies add an interesting texture. Served up with some delicious '07 Oak Valley olives, I agree with Bryson – the Australian outback is an odd place indeed.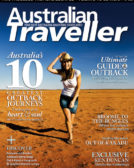 Enjoy this article?
You can find it in Issue 21 along with
loads of other great stories and tips.