With the help of an Indigenous tourist operator, Alena Duykers packs a lot in to a half-day tour around Alice Springs…

Crouching down and resting on one knee, Indigenous tour operator Colleen Powell places her index finger into the red sand and draws three elongated circles, slightly spaced apart. As she finishes her illustration of the MacDonnell Ranges she looks up at me and mouths the word "Yipirinya".
In Arrernte (the Indigenous language used by the Aboriginal people of Alice Springs) Yipirinya means caterpillar. I had travelled to the Alice to work on a small project at the local Indigenous school called Yipirinya and was curious about the meaning of the name.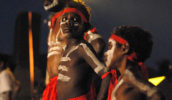 After looking down at Colleen's drawing again, I begin to understand how the Arrernte people see a resemblance between a long caterpillar and the MacDonnell Ranges if viewed from above or from afar.
Colleen and her husband Jungala Kriss, work together to run the tour group I'm on named Jungala Enterprises, giving explanations like this at each location we visit around Alice Springs. Captivating the group with tales from their ancestors and explaining the different messages painted and preserved on rock faces, their stories are an insightful cultural experience.
"The best way to learn about a culture is to be taught by the people who are from that culture," Jungala says, as we all bounce about in the four-wheel drive.
Jungala was a child of the stolen generation and from the age of five was given a Western upbringing with a foster family in Melbourne. After high school and briefly returning back to the Alice, Jungala left for Europe where he lived for three years. During that time, Jungala learnt Dutch, lectured about Aboriginal culture at various schools around Belgium and rediscovered painting.
After his time in Europe, Jungala came to the realization that people travelled to the Red Centre because they wanted a truly authentic traditional experience. So upon his return, Jungala established his Australian Aboriginal Art and Indigenous tourism company, Jungala Enterprises.
Over the years Jungala Enterprises has grown significantly and now offers people a variety of options to really experience what Alice Springs has to offer.
I'm on the half-day Jukurrpa Mountain Bike experience, and now Jungala has welcomed the group in Arrernte, we're off towards Heavitree Gap where he teaches us about the importance of the area to secret men's business. He later explains how the area was used as a secret storage place for important objects and the history behind the Gap.
The tour then heads west of the mountain ranges, as Jungala tells me of the creation story of the 'wild dogs'. We also learn about the history of well-known Indigenous artist, Albert Namatjira, before the tour draws to an end.
The tour includes dot-painted mountain bikes, entrance fees and morning or afternoon tea.
But for a longer Alice Springs experience, I recommend Jungala's Larapinta seven-day culture trek. Each day involves between five and nine hours of walking and will take you through the rugged terrain of the MacDonnell Ranges.
Alternatively, if you are looking to see Kings Canyon and Uluru as well as Alice during your Outback adventure, consider the Charter tour with Jungala Enterprises. Staying at various outstations along the way, this tour also includes an Indigenous guide, hotel transfers and a light lunch and drink.
//  Alena Duykers is a member of our Virtual Internship Program. If you're a photographer or writer and you're looking to break into travel journalism, we're here to help you get a leg up. To find out more, email us at   interns@australiantraveller.com