Long-time AT reader and contributor George Suresh recently downed tools at his day job with the Australian Tax Office and set his sights on the driving adventure of a lifetime. He returned safely, with his outback Kurunpa intact, and plenty of extraordinary images to show us.
Sydney-based amateur photographer George Suresh and Indigenous project manager Raj Raghavan spent a lot of hours behind the wheel this past July. George is a long-time AT reader, and when he's not working by day for the ATO he spends his time capturing some of the best images we've seen by an amateur photographer. All with a Canon 400D, the so-called "starter" camera he won by submitting a Your Shot image to AT back in November 2007.
His good friend Raj is the director of a fledgling company called Red Elephant Projects, which oversees culturally important projects such as housing and education in remote communities. Together, George and Raj drove more than 2400km through the Red Centre, visiting Indigenous communities and crossing all manner of extraordinary landscapes. Their mission? To uniquely capture the heart and soul of these communities and the importance of their connection with the environment.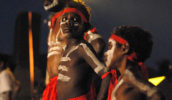 "It was extremely important forus on this road trip, at every level,to capture the essence of what the community knows is important for them," says Raj. "Not what we think is important for the community."
Beginning in Alice Springs and tracing the famous Larapinta through the Western Macs to Uluru, the pair then ventured further west toward Kaltukatjara (Docker River) and the WA border. Navigating the 4WD-only Sandy Blight Junction Road, their only stop was the remote Tjukurla Aboriginal community, nestled beside the giant salt lake, Lake Hopkins. Another eight hours northeast saw them fetch up at the remote township of Kintore, where they stayed for the local footy carnival, before travelling back across the NT border. "It was incredible to experience an ancient culture, not only surviving, but thriving in the heart of the outback," says George. After a week in Kintorewith the Pintupi people learning snatches of their language, Pintupi Luritja, they made their way backto Alice via Ikuntji (Haasts Bluff).
As a result of George's vision and Raj's personal connection with the Indigenous communities, which had invited them for this adventure, they returned with a portfolio of images and interpretations, collectively constructed with the knowledge of the community elders in the region– a portfolio that eloquently captures Outback Kurunpa – the genuine spirit of the outback.
George and Raj would like tooffer special thanks to Molly Marlene Nampijimpa (Kintore), Irene Nangala (Kintore), Andrew Tjapaltjarri Spencer (Kintore), and Adrian Tjupurula Young (Tjukurla) for their personal invitations to enter their land. For more infoon George Suresh, call 0401807 555, and for info on similar culture-motivated projects, email raj@redelephantprojects.com
Kintore Dreaming // Molly Marlene Nampijimpa prepares herself for Tulku Yowlyu (sacred song and dance). The ochre paint symbolises that she is ready to dance for her country and land with the purpose of teaching young ones about Tulku.
Wisdom // Mrs Bennett, one of the oldest and most powerful Pintupi women in the country, deep in thought. As a Ngaankari (spiritual healer) and wise elder, she commands great respect from her people. Her knowledge is expressed through song and artwork.
Walk of Life // Andrew Tjapaltjarri, grandfather, community policeman and respected elder, shares a moment with his granddaughter Julianne Nampitjimpa during a warm sunset in Kintore. In all Indigenous cultures the grandparent-grandchild relationship (jammu-kappali) is one of the most fundamental aspects for passing on knowledge. Kulyintjaku, the process of listening and learning, is undertaken by young ones from their more experienced elders.
Expression // Molly Marlene Nampijimpa (far right) in Kintore Aboriginal community with (left to right, skin names) Nangala, two Nampijimpas and Nakamarra. The young girls are drawn to positive elder role models in the community. All elders in the community are responsible for the welfare of their children. Age is a civilisational value, reflecting wisdom and experience.
Desert Jade // The Northern Territory is a place of extreme contrasts. After coming across dozens of wrecks, this one stood out against a stunning backdrop of the desert landscape – an ongoing contrast of nature versus the manmade past.
Ochre Beauty // Guiding us barefoot through a trackless path of needle-like shrubs and course stones, Caitlin and Vranita Napangati take us to a natural ochre source. We learn about how natural ochre was traditionally crushed for body painting preparation before Tulku Yowlyu (sacred song and dance ceremony). Ochre is the main pigment used in rock art across the country, some of which date back between 25,000 and 35,000 years.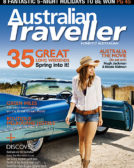 Enjoy this article?
You can find it in Issue 23 along with
loads of other great stories and tips.