For AT reader Anne Fitzpatrick, completing a cross-country ride is all a matter of finding a favouring breeze.

There was a ferocious headwind blowing up the Stuart Highway, making Alice Springs feel a lot further away than 505km from Tennant Creek. I had my tyres pumped, trailer packed, peanut butter sandwiches made and was away by 11am. Since locals assured me the wind always dies down after lunch, I figured it would be dropping off soon. After too many hours using every ounce of strength to push through cyclonic winds, I figured Tennant Creek must have skipped lunch today.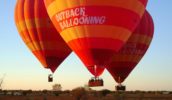 With no break in the wind, I passed the Devil's Marbles at sunset and stopped at Wauchope Roadhouse. Instead of paying camping fees here, I invested in chocolate. Over-priced confectionary in hand, I headed into the darkness and found a discrete, fee-less campsite.
Next morning, coated in a thin layer of red dirt, I made my way through icy headwinds to Wycliffe Well Roadhouse and its alien-themed statues, murals and souvenirs. Had I known Wycliffe Well was the UFO Capital of Australia I'd have been less worried about backpack murderers and wild animals the night before and more concerned with probes and implants.
I topped up my bottles with bore water and pushed on, aiming for Barrow Creek Roadhouse, which doubles as a pub and caravan park. I crept along through the ever-strong southerly and – after clicking over 100km – the roadhouse crept into view. It was run down, but came good on my mumbled request for a glass and litre of milk once I'd propped myself up at the bar.
Asking about their camping facilities, I was informed that since they currently had no running water, I could stay for free. I headed out back to set up – but stopped in my tracks at a confusing sight. Caravan park? Exactly where, how and why would a caravan (or I) park here? All I could see were half demolished transportables, a few piles of rubbish and a waist-high jungle of shrubs. I retraced my steps back into the pub, made my excuses, bought a ten-litre cask of drinking water and made a lethargic attempt at a quick getaway.
The next morning I emerged from the bush coated in a thicker layer of red dust and with freezing cold feet. The rest of me was pretty cold too, thanks to the desert morning chill, but my feet were taking up all my attention underneath their thin pair of socks and open-toed sandals.
Ten minutes later I had to stop. Focusing all of its force directly at my feet, this was no longer a headwind; it was a toewind. I considered the logistics of riding backwards or tucked inside my sleeping bag but then remembered the empty and marginally clean bread bags I keep stashed away, a result of my recent very un-Atkins-like bread consumption. They perfectly complemented my outfit and cut the wind out significantly.
By the time I'd warmed up and returned the bread bags to my backpack, making a mental note not to use these particular ones for food storage, I'd made it to Ti-Tree. Here I met with a situation even worse than Barrow Creek . . . They were out of milk. I sulked for a while, then dawdled the last 60km to Aileron Roadhouse, which in an unusual move had water, showers, milk and an identifiable caravan park area.
The morning of my entry into Alice Springs was even colder, but a puncture delayed my departure until a climatically more respectable hour. It was 140km to Alice but after 50km of pushing through the same headwind that had been taunting me the past three days, I stopped. I got off my bike and stamped my foot on the ground. I glared at the wind and swore; 90km more of this riding seemed too much to bear.
Singing wasn't helping, all the pleasant thoughts I conjured up had been conjured up too many times before, and a nasty, helpless feeling was spreading from my brain to my legs. I wanted to lie down in the dirt or burn my bike or find a big red Abort Mission button on a tree stump and press it, yelling: "I GIVE UP!"
Out on these kinds of roads, you have to be careful. Your body and mind are so closely linked that once your thoughts spiral out of control you lose the ability to look after yourself properly and it can become dangerous.
I slowly climbed back on my bike, cleared my throat and made an announcement to myself: "We are going to ride to Alice Springs. Now." I kept talking for the next 60km, giving myself gentle encouragement and firm reminders to be sensible.
It seemed to be working. But however sane you are, you still need sustenance to keep riding. With 30km to go I'd finished off all my solid food and was onto honey straight from the bottle.
The hills began closing in, making an exhilarating ride; weaving left and right, up and down, faster and faster as the sun began to set behind me. Every corner offered the possibility of the first glimpse of the city; every hillcrest gave a glorious view.
I finally made it into Alice Springs as the sun went down and found the sanctuary of my friend Olivia's home. My first house since Townsville, my first bed in two and a half weeks, my first friend in over 2000km. As Olivia opened the door to let me in, I gave one last look outside at the trees still being tossed around by the wind. I hoped it would stick around; in a few days I'd be heading back up the Stuart Highway to Darwin.
A wind that makes your life misery in one direction can be a blessing when you change direction a mere 180 degrees.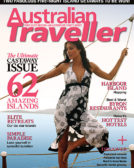 Enjoy this article?
You can find it in Issue 19 along with
loads of other great stories and tips.