If you want four day's worth of non-stop fun with your friends, I can't imagine a better way to go than hiring a 4WD and hitting the Red Centre Way between Alice and Uluru. (Maybe practise changing a tyre before you go.) The 330km of unsealed road that is the Mereenie Loop is undoubtedly the best bit. It starts at the West MacDonnell Ranges just out of Alice Springs and spits you out at Kings Canyon, providing a day's worth of excellent adventure – expect extra excitement after rain, when the road may have developed a few new interesting twists and turns.
At one point during my trip, after passing no-one for hours, we were forced to stop because a herd of 20 wild horses was standing stock-still in the middle of the road. After staring us-at-them, them-at-us for a few minutes, they bolted. It was a surreal and beautiful moment.
Other things you can expect to see: roadside scrub decorated like Christmas trees with discarded, broken car bits, a camel or two, surprise mountain ranges and more vegetation than your school-teachings would have had you believe was out here. Also expect your teeth to chatter and your fleshier parts to vibrate from the corrugations in the road, especially if it hasn't been graded recently.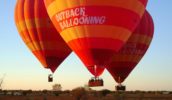 Outside the Loop, keep your eyes peeled for turn-offs to gorges such as Ormiston and Redbank, and the Ellery Creek Big Hole, where you'll welcome a swim. Stay overnight in Kings Canyon so you can set three or four hours aside to walk its 270m-high ancient sandstone rim. The view is incredible. Then there's Kata Tjuta, Standley Chasm, and Uluru to keep you interested. It's one of those trips-of-a-lifetime that is almost always underestimated, but the Red Centre sure packs a punch when you get there. Here's a tip: leave your GHD and make-up bag at home. The less you brush your hair, the more adventurous you'll feel. And boy, is it liberating.
Where to stay
You'll need somewhere to stay at the before and after the Mereenie Loop – you shouldn't stop in between. Sitting at the western end of the MacDonnell Ranges, Glen Helen Resort is very, very basic – but on the plus side, you can get bunk rooms that sleep four from $30 per night per person. The resort's Namatjira restaurant has croc, kangaroo and barramundi on the menu. Its outback-style bar is a bit of fun, with a back deck overlooking a formidable wall of red cliffs (glenhelen.com.au). At the end of the loop, Kings Canyon Resort is the way to go. Hang the expense and book a spa room (from $382 dollars a night; kingscanyonresort.com.au). 
For more info, go to travelnt.com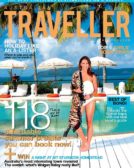 Enjoy this article?
You can find it in Issue 35 along with
loads of other great stories and tips.