It's a pilgrimage all Australians should make – but how best to tackle Uluru? Follow in the footsteps of two AT travellers, both with very different approaches to the Rock, and make sure your own visit is as close to perfect as possible. By John Maddocks.
How often have you seen a photo of some fabulous travel icon only to be disappointed when you finally see it in real life? And if that icon is also marketed as the "heart and soul" of a country, expectations will naturally be high. So as I hurtle down the Stuart Hwy on the 466km trip from Alice Springs to Uluru, I make an effort to keep my sense of anticipation in check. Can "the Rock", which has featured in so many paintings, photos and documentaries, possibly match the hype that's given it such legendary status?
Getting there: a few traps to avoid
As there are no speed limits on NT highways, many drivers sit on 140km/h on the straight, high-quality roads that take them southwest of Alice to the World Heritage-listed Uluru Kata Tjuta National Park. I'm generally more comfortable driving at around 110km/h, but since my car was unavailable for hire until 1pm, I'm now concerned I'll run out of daylight on the five-hour journey. Many people like to fly straight into Yulara, the service town closest to Uluru, but is this a pilgrimage or isn't it? Like all truly worthwile ones, it's not supposed to be easy.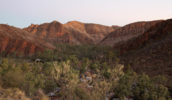 "Your vehicle insurance is totally void if you drive on those roads at night," the clerk at the car hire told me emphatically. "And if you hit a roo or a camel, you'll want to make sure your life insurance is up to date as well."
Black humour in the Red Centre . . . and you need a sense of humour to travel in these parts. With prices usually high and service levels often low, you have to be able to laugh off some of the negatives while adopting a "put it down to experience" philosophy. Ordering fish and chips at the roadhouses along the way, for example, is risky, with more than 1200km to the ocean in any direction and not a drop of water in the local rivers.
As I tear through the desert I approach a spectacular wedge-tailed eagle feasting on the remains of a road-kill roo. One of the few distractions on the long, unwinding road to Uluru, it takes off with a few leisurely flaps of its majestic wings. Other cars appear as dots on the mirage-hazed horizon, gradually taking shape as they draw closer. Most drivers wave as they pass, a lonely reaction to the vastness of the landscape.
And that landscape, with its distinctly Namatjira tones, is captivating, mesmerising. Its sheer barrenness begs the question: how did Aboriginal people survive here for so long, and so successfully? While pondering this, I arrive at Mount Conner lookout, on the Lasseter Hwy about 100km from Yulara. Some mistake the 600-million-year-old tabletop Mount Conner for Uluru because of its similar size and its solitary presence in the desert. Not long after, I reach Curtin Springs Station, owned by the Severin family for 50 years. It's a friendly place where you can base yourself for your Uluru visit, as the drive there takes less than an hour. While the lodgings consists of boxy, red earth-coloured units and cabins, it's comfortable and less than half the cost of the cheapest rooms at Yulara. But with my accommodation at Yulara pre-booked, I rejoin the highway to complete the 85km to town. The sun's low in the sky, and 30 minutes into this last leg I come to a halt as a herd of camels ambles across the highway 50m in front of me. I reach Yulara just as the light disappears entirely and find my hotel on the circular drive that is the main road of this pristine-looking place.
Bearing the cost
Yulara is a purpose-built, 800-room town managed by the Voyages Hotel and Resort Group and serviced by Ayers Rock airport 6km away. I check in, and when I get to my room I find bunk beds and basic ensuite facilities. At $160, these are the cheapest lodgings in Yulara – apart from backpacker dormitories at $33 per person.
Yulara is an Aboriginal word that means "howling", and a local joke is that you'll be howling when you see your bill: self-contained rooms start at $291 per double and full board in a luxury tent is $1800 per double with a minimum two-night stay. The average price for a double hotel room is around $400, and even an unpowered campsite is $24.50 for two.
A friend in Alice had warned me about food and alcohol prices at Yulara and loaned me an esky for supplies. Just as well, as the closest restaurant to my hotel has Chardonnay on special at $11 a glass. Even basic groceries cost 30 percent more in Yulara than in Alice. But why the expense? The answers often given include remoteness and infrastructure costs – running the largest and most remote resort in the land. Sceptical Territorians claim other places are equally remote and don't charge as much, but they also don't have 800 rooms. The mid-range facilities at Yulara are overpriced compared to similar lodgings in more accessible areas. Those on a budget would do well to hire a campervan in Alice, take all provisions with them, and base themselves at Curtin Springs. The four- and five-star lodgings are undoubtedly worthy of those ratings, and the award-winning Sounds of Silence outdoor "desert dining experience" is arguably worth its $145 per head.
The next morning I drive to the entrance of the National Park and pay the $25 fee for a three-day pass. I'm about to see what I came all this way for.
Feel your way
They say nothing prepares you for your first sight of Uluru, and it's absolutely true. As I approach, I feel overwhelmed by the Rock's sheer size and grandeur, but I also sense there's something even bigger happening here. First stop is the Cultural Centre, which has excellent displays, videos and artwork, as well as souvenirs. The traditional owners, the Anangu, are proud of their heritage and offer guided walks of the caves, as well as bush tucker experiences. There's no walk happening for a couple of hours, but one of the Anangu guides suggests I take the 9km trek around the base of Uluru by myself. "Get a feel for the place, then we'll show you some of the traditional stuff," he tells me. "You can climb Uluru if you want to, but we'd rather you didn't. It's against our law and culture, and plenty of people have been killed on that climb, which upsets us."
When I tell him I have no intention of climbing Uluru he gives a nod of approval and I head off on my walk. It's early in the day and I want to go around before it gets too hot. Heading in a clockwise direction, I pass cave overhangs and male and female sacred sites marked "no photographs please." I decide not to even look at the female sites out of respect – this place, after all, embodies thousands of years of religious and cultural tradition. Uluru has a presence that deeply affects people from widely differing backgrounds, but unlike many sacred sites around the world, there are no overtly religious symbols or icons. No priests, nuns or devotees wandering around. Just the raw reality of a 348m high, 3km2 geological monolith literally in the middle of nowhere.
Viewed from a distance at sunrise and sunset, Uluru provides a fabulous chameleon-like light show as it changes colour dramatically. But as I walk around its base, I discover much more than the picturesque aspect: each section has a distinctive look and feel, with natural formations that present endless imaginative and interpretative possibilities.
I'm pleased that my first encounter with Uluru is a solo one. For long periods I see no other tourists, and there's no guide to overlay my experience with stories. When I stop about halfway to take some water, a small bird lands on my jeans just above the knee. I'm standing quite still and it stays there for maybe 15 seconds before fluttering around me and landing on my leg again. I've no food to give it and after a few seconds it flies to the branch of a nearby scrubby tree.
The walk takes just under three hours. Returning to the Cultural Centre, the guide I met earlier asks me how I enjoyed it. When I tell him about the bird, he smiles and says, "This place must like you, brother."
Incredible Kata Tjuta
An Aboriginal male initiation site, Kata Tjuta (the Olgas) means "many heads", which seems appropriate for the 36 rounded peaks just 53km from Yulara. And what handsome heads they are, having taken 600 million years to perfect. Ernest Giles, who "discovered" the Olgas in 1872 and named the highest one after Queen Olga of Wurrtemberg, said that while Uluru is "the more ancient and sublime," the Olgas (Kata Tjuta) are "more wonderful and grotesque." He had a point, as some people think Kata Tjuta is more arresting than Uluru because of the diversity of unusual shapes to be found there. What I find interesting is how different Kata Tjuta is from Uluru, given their relative proximity and the fact that they were both originally part of the same mountain range. A major difference is that you can walk among the monoliths at places like Kata Tjuta's Valley of the Winds, which gives you a perspective totally unlike that experienced when walking around the base of Uluru.
Feeling that I've at last penetrated the ancient heart of my native land, I drive back towards Uluru and arrive at the roadside sunset viewing area in the late afternoon. Hundreds of excited tourists pack the spot, most with cameras clicking and many sipping champagne as the departing rays of the sun start to work their spectacular magic on the Rock. They've come from all over the world, and are well aware that they're seeing one of the true marvels of this earth.
Essential Uluru: the perfect Ayers Rock pilgrimage

1. Check your vehicle. Make sure tyres, including spare, are in good nick and inflated to correct pressure. If hiring, make sure you know how to change the tyres. Check oil and brake fluid levels. Mark petrol stations clearly on your map and, if your car breaks down, remain with it.
2. Take a fly net. Flies can be a problem at Uluru and Kata Tjuta. Fly nets are available at many shops and info centres and cost only a few dollars – you won't regret it.
3. Take an esky. Avoid the high costs of alcohol at Yulara by taking an esky and a refreeze pack to keep the white wine and beer purchased elsewhere cool.
4. Wear appropriate clothing. It's not called the Red Centre for nothing. The red earth at Uluru and Kata Tjuta can permeate just about anything, so wear strong, cool clothing and good footwear.
5. Spinifex. If you wander off the beaten track, be careful not to get up close and personal with Spinifex, which is sharp and can cause cuts and scratches.
6. Dingoes. If you're camping, clean up food scraps as dingoes will occasionally wander into campsites looking for leftovers. Don't try to feed them – they're wild animals and should be left alone.
7. Snakes. Although you're unlikely to encounter one, it's worth remembering they're around. If bitten, don't wipe venom from the area as this will hinder identification, but place a folded pad on the bite and apply a pressure bandage (available from pharmacies).
8. Medical kit. Carry a good kit in your vehicle and an emergency first-aid kit in your backpack. Make sure you also have insect repellent and sun block.
9. Permits. Uluru-Kata Tjuta National Park officials report that anyone travelling west or south of the Park (ie, through Docker River or Amata) needs a permit (free) from the Central Land Council. Anyone travelling to/from the Park via the Mereenie Loop (Alice via Kings Canyon) also needs a permit from the CLC or Hermannsburg Community. The Mereenie Loop permit costs $2, but is pretty handy (with map and camping info) and makes a great souvenir. Phone (08) 8953 4345.
10. Packages. It's counter-intuitive but the most cost-effective way to get the best of Uluru is to find a flight/transfer/accommodation package. There are several different packages to suit all budgets and timelines. The only marginal downside is that you don't get as much flexibility with your itinerary.
11. Pilgrimage. AT recommends a pilgrimage approach to your Uluru experience. Therefore, our suggested itinerary is to fly to Alice Springs for no more than three days, then take off on the Mereenie Loop through to Kings Canyon for a night, then on to Uluru. This itinerary means you arrive at Uluru with a greater sense of anticipation and understanding of the Red Centre.
*See Part II of our Perfect Uluru Pilgrimage: "Good Guides Really Matter"
By Gail Liston-Burgess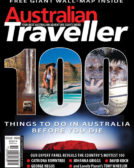 Enjoy this article?
You can find it in Issue 8 along with
loads of other great stories and tips.