To climb Uluru or not to climb, that is the question. Hundreds of thousands of tourists scale The Rock every year, against the express wishes of the traditional owners, the Anangu people.
Here are five things to consider before making your decision. By Steve Madgwick.
1. Would you climb a church?
Bottom line: The traditional owners ask that you don't climb but the act is still legal. The Anangu consider Uluru an intensely spiritual place, an area where their Tjukurpa (creation stories), which govern their ceremonies, art and rules for living, converge.
The Rock is said to be spiritually significant because it was a traditional route of their ancestral Mala men. UNESCO has acknowledged this 'cultural landscape' by deeming it a World Heritage area so it's hard to argue.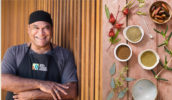 Would you climb over a church or wander through someone's backyard without permission?
2. The scar of Uluru
The central Australian deserts and Uluru itself may seem outback tough, but the semi-arid ecosystem is actually quite fragile, as can be seen by the erosion along the historic climbing route, known as the Scar of Uluru. The wearing away of the sandstone is a very real issue.
3. Nowhere, to, well, go…
There are no toilet facilities on top of Uluru, so when nature inevitably calls the climbers use it as a loo, highlighted by media reports of tourists treating Uluru as a toilet.
And when the rains eventually come, that concentration of number ones and numbers twos flush straight into the waterholes below, tainting the water that threatened flora and fauna rely on.
4. Because it's dangerous
Okay, so 348 metres might not seem high in terms of mountains (Kosciusko stands at 2228 metres, for example), but Uluru has reportedly claimed 35 lives in recorded history.
Unfit tourists often underestimate the task, and the chain along the climbing route is inadequate for the steep and sometimes slippery surface.
The 95-storey climb is often closed anyway due to wind, storm, and over the hot summer months (or temperatures above 36°C). When a person dies on their traditional sites, it is said to cause great sadness to the Anangu.
5. There are endless alternatives to climbing
Sure you can climb it. But you can also cruise past it on a camel or the back of a Harley-Davidson. You can enjoy it with champagne in hand or dine on a sand dune in its presence at the Tali Wiru experience.
You can ride a bicycle around its base and there's also a wide range of guided walks (for example, Mutitjulu Waterhole) where you can see rock art up close with someone who can tell you the story of the land.
Heck, you can even sky dive over Uluru if you're looking for an adrenalised challenge.