One of AT's great Australian Aboriginal experiences, Desert Tracks, takes place in PitjantjatJara Lands, south of Uluru-Kata Tjuta National Park, Northern Territory
Wati Ngintaka, the giant Perentie Lizard Man, is a being from another time. He traversed the Pitjantjatjara and Ankunytjatjara lands forming the ranges, salt lakes, mountains and creeks. He gave the people bush foods and medicines. His songline crosses this land. His story is the story of the Anangu.
The dirt track winds away from Mt Conner towards the Pitjantjatjara homeland. Red desert dust billows behind the vehicle. "Our first stop is Angatja in the Mann Ranges," says Desert Tracks guide Brett Graham. "From there we will follow the songlines of Ngintaka, visiting the sites of the Creation stories."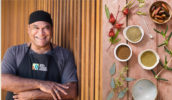 "I don't understand what the songlines are," a young voice from the back of the 4WD pipes up. "The best way to describe songlines is to imagine a travel book," Brett replies. "But instead of reading the chapters, you visit the chapter places and hear the stories being told and sung. Each traditional owner in each location has their own chapter – their own part of the Ngintaka songline story."
Desert Tracks is owned by the Anangu Pitjantjatjara people from Central Australia. It was founded by elders Nganyintja and Ilyatjari to teach visitors the sacred significance of their Tjukurpa, Creation law. By sharing this knowledge, they hope to keep their culture and country alive. For six months of each year the Anangu invite travellers into their homeland to live with them and learn. They call us students.
Brett directs the 4WD around a couple of fast-moving roos. "No two days are ever the same out here," he says. "You'll find Desert Tracks is real cultural immersion. You're going to share the Anangu life over the next few days. You'll camp, eat and interact with Aboriginal people in their environment." This particular tour will follow the journey of Ngintaka through the Pitjantjatjara homelands for five days. There's a real air of anticipation as the vehicle comes to a halt. We have arrived. Anangu guide Rennie Lyons leads the way to a place she believes Jala (honey ants) will be found. We begin to dig just below the surface, looking for a solitary ant. We dig, and dig, and dig. Moving to another location, we dig some more. Rennie spies an ant. More digging. She stops, touches arms to warn calm, patience. She watches the ant weave away. Waiting. The ant eventually finds the nest and the sweet honey.
The first lesson in Nyanganyi (looking) has been taught. Later, in the search for Maku (witchetty grubs), Rennie teaches that it is important to stop and notice what's not seen. A life lesson has been learned while searching for food. Open your eyes, notice, listen, be patient, and see what cannot be seen.
"There are no set times for anything, which makes the days relaxed," one guest observes. "No-one's in a rush. Time seems to have a completely different concept here. The Aboriginal people are totally focussed with their relationship between people, plants, animal and the land."
The songline of Ngintaka leads the way across country from the Mann Ranges to the salt lake created by the legendary spirit rubbing his full tummy on the ground to aid digestion, through the line of exposed boulders vomited by Ngintaka when he ate too many mistletoe berries, arriving at Cave Hill, an amazing rock art site that further depicts myths of the Creation.
"There are three main art sites at Cave Hill," says Brett. "And if you climb to the top you'll have a 360-degree view that includes Uluru, Mt Conner and the Musgrave Ranges." He's right. The view is a knockout.
Faces are painted in the same way Anangu women have done time after time. Together we sit sharing accounts of daily life and learning dances and songs from Leah Brady, traditional owner of this country. Gentle and quiet, she takes her time to accept newcomers. But she's full of wisdom and inspiration; she sits by the fire with small brown children frolicking around her and tells of the way things used to be. "There are no barriers in this land," she says. "Only respect."
The swags have been rolled out. Tired bodies crawl under canvas covers. The night sky is filled with glittering stars, like eyes looking down, watching. There are more stories than can be told in five days and the gifts of the visit have been countless. "People come here with a preconceived idea of Aboriginal life," says Brett. "What they find are kind-hearted, generous people who hold family and community close."
DETAILS // DESERT TRACKS
Desert Tracks operates tours from April-Nov. Desert Culture and 3-Day Songline Tour, $1250 adult, $625 child. Cultural Icons 3-Day Tour, $1150 adult standard, $1280 adult deluxe, $870 adult touring only, $575 child standard, $640 child deluxe, $435 child touring only.
5-Day Angatja Bush College starts at $1950 adult $975 child. All tours available on private charter basis, prices on request. Can also utilise light plane transfers if there are time constraints. One- to ten-day itineraries designed.
Phone // (+61) 2 6286 9033
Email // info@deserttracks.com.au
Website// www.deserttracks.com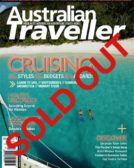 Enjoy this article?
You can find it in Issue 15 along with
loads of other great stories and tips.