We've all familiar with photographs of iconic Uluru, taken from afar and front-on. Here Brigitte Drew aims to capture a different side of Australia heart.
As an amateur photographer, but lover of photography and the Australian landscape, Brigitte Drew recently embarked on a roadtrip from Adelaide to Darwin, camera in hand.
She spent a few days at Australia's heart – Uluru, to capture a different side of the iconic rock.
The result? A series of images that go beyond the typical front-on shot and show the diverse faces of Australia's most famous natural landmark.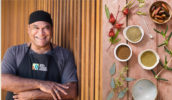 "We see many photos and postcards of Uluru from a distance, large and bold in a spectacular sunrise or sunset, but you truly don't realise how majestic it is until you are actually at the base of the rock. We spent several hours walking around the base getting up nice and close, enabling you to capture a lot of the detail that is lost in the distance."
– Brigitte Drew
// Brigitte Drew is a member of our Virtual Internship Program. If you're a photographer or writer looking to break into travel journalism, we're here to help you get a leg up. To find out more, email us at interns@australiantraveller.com