AT Reader Sue Rea from Galston in Sydney tuned in to Australian Traveller on the radio, then found herself having the birthday treat of her life at Uluru. Five-star camping in the blazing Red Centre

My husband and I just returned from the most wonderful weekend. I was looking for something special to do for my 50th birthday and didn't really want to do the party thing, but was at a loss as to a memorable alternative.
It was a Tuesday afternoon when I was in the car and I heard your regular segment on 2GB with Chris Smith and the discussion on five-star camping. When I arrived home, my copy of Australian Traveller was in the letterbox and I went straight to the page on Longitude 131°. That was it! I jumped on the computer, checked out their website, made the booking, grabbed some flights and phoned my husband to tell him we were going away for my birthday.
What a totally wonderful experience. The setting, of course, is just unbeatable. You find yourself sitting in your "tent" looking at Uluru for hours; it's a bit like sitting and staring into a campfire, it's so hypnotic.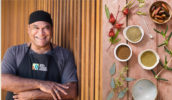 Over our four days we sat and stared at sunrises, sunsets, blue skies and stormy clouds and lightning that passed us by. The staff are just wonderful and go out of their way to do anything for you. You know you're somewhere special when all the staff greet you by name every time they serve you and remember the tiny, unimportant things you tell them.
The food and wine was absolutely amazing and we were all just blown away by the meals Chef Honore served for breakfast, lunch and dinner. The group was disappointed that our dinner at Table 131° was cancelled due to the high winds, but our meal in the Dune House was just outstanding. The tour guides were all highly professional and shared their knowledge in the bus, on treks and even in the dining room.
We met the loveliest people from all over the world and shared sunrises, sunsets, treks, meals, stories and laughs about the places we'd all visited. We gazed at the starry night sky, and many of the overseas guests marvelled at seeing the Milky Way and our Southern Cross for the first time. They listened as we were able to tell them of all things Australian and we learned about their impressions of where they'd been and what they'd seen. Upon Longitude's recommendation, we finished off our stay with a helicopter flight over Uluru and Kata Tjuta; it still takes my breath away just thinking about it.
We returned with a spring in our step and grins from ear to ear, surely the sign of a wonderful trip. There was not one thing we were disappointed with or that we could find fault with and we could return again in a flash. This was a fabulous birthday treat, and my gift of memories will last forever.
Our 18-year-old son is doing a Gap Year at a school in Dublin this year, and after the terrible summer they've had over there in the UK this year, tales of blue skies, 38-degree heat and camping in the desert has him – for the first time this year – longing for Australia. He's looking forward to coming home to summer, sand and surf for Christmas. Thank you, Australian Traveller.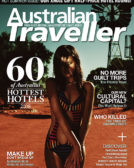 Enjoy this article?
You can find it in Issue 18 along with
loads of other great stories and tips.