Forget four-wheel drives, early European explorers in Australia knew the value of camels when travelling throughout the Outback. Anne Majumdar gets the hump. Few things get me out of bed at 4.30am, but as the sun unfurls across the purple sky to reveal the deep red of the desert dirt, I have to admit it is worth the early start. To my right towers the mighty monolith Uluru, or Ayers Rock; to my left, the sci-fi bulbs of Kata Tjuta, also known as the Olgas. Beneath me, my camel Rajah Red rocks me gently from side to side as he hot foots it through the scrub, swinging his long jaw sideways to catch a mouthful of greenery, which he mashes slowly between yellow, crooked teeth.
We pause on an ochre sand dune to soak in the atmosphere; it's peaceful, relaxing and there is no other trace of human life in sight. My ride shifts beneath me, still chewing contentedly as his wee interrupts my reverie and draws a black squiggle in the red sand. Ahmed, the golden camel behind us, nudges my hip with his giant nostrils, his long purple tongue shooting out and scratching against my arm as he blinks from beneath layers of long black eyelashes.
"It's like a magic carpet ride," says Mark Swindells, the director of Uluru Camel Tours. "The camel does all the work and you're just sitting up there relaxing, taking in the scenery and the country."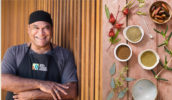 High up above the scrub, the unhindered view makes this the perfect spot to appreciate Australia's most famous natural landmark. Surrounded by nature, riders consider the region's rich spiritual significance to its Anangu people, who have a strong affinity with flora and fauna.
Today, dromedary camels are considered a near native of the Australian desert, having roamed the Outback for over 170 years. The Victorian Exploring Expedition that featured Burke and Wills was the first major importer of camels as many were brought out from the Middle East to help with the exploration of Australia from 1860. Able to carry tremendous weight and last long periods without food or water, their contribution to the discovery of the interior was considered invaluable.
Since then camels have thrived and now there are over a million roaming wild in the arid regions of Australia, from the Simpson Desert to the Great Victorian Desert.
"The conditions are almost too good for camels," explains Swindells. "Where they come from, the conditions are a lot harsher." More rainfall, more plants to eat and more space to roam has meant optimum feeding and breeding conditions for the humped animals.
Swindells has been working with camels for 17 years, over which time his herd has grown from four to 30.
"They've got really superb personalities," he says. "People often start out a little bit apprehensive because they've heard all these terrible tales about camels being aggressive and bad-tempered, but after two hours they come back and they're totally in love with the animal they've got."
Next year Uluru Camel Tours hope to offer longer treks to customers, in addition to the daily sunrise and sunset tours. Aimed at people who want to get away from civilisation, the treks will enter untouched and uninhabited parts of Australia. "There's no farming out there, no infrastructure," explains Swindells, "just the sand dunes, the camels and the people you're riding with."
It sounds tempting, especially as Rajah Red nibbles straw from my hands once we're back at the farm, but I can think about that later. For now, my main priority is getting back to bed.
DETAILS
//  Rates for the Camel to Sunrise Tour start at $119.
For more information contact Uluru Camel Tours on (08) 8956 2444.
//  Anne Majumdar is a member of our Virtual Internship Program. If you're a photographer or writer and you're looking to break into travel journalism, we're here to help you get a leg up. To find out more, email us at interns@australiantraveller.com