Travel photographer Melissa Findley gets swept up in the irresistible force of an Australian Traveller cover shoot (The Bucket List 2014 issue) at the dramatic Devils Marbles (Karlu Karlu). Here's her behind-the-scenes account, plus some of her stunning images, of that journey.
My second trip to the Red Centre was one to remember.
It's nice discovering places you don't know too much about. I try not to do too much beyond the basic research before visiting a place because I find there's something exciting about getting to a new destination and letting it surprise you.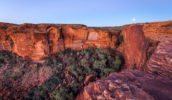 Admittedly, like most, I did a quick Google map and image search to see why Devils Marbles was the destination of choice for the front cover of The Bucket List 2014 issue of Australian Traveller. It didn't take me long to discover why and the reality of the place exceeded any expectation I had.
The journey began with a flight, an overnight stopover, another flight, and then a five-hour drive along a long and straight, wide-open road – with probably too many "can we stop the car" moments by an eager photographer (me). The anxious photographer in me was hanging to get out, explore and capture the beauty of Australia's Northern Territory.
On the five-hour drive, I made us stop about 20 times, which I think paid off, with shots like the one of the windmill I took (between the Marbles and Tennant Creek). It was the last shot of the day and maybe the best.
When I was invited to document behind the scenes action, I was sworn to secrecy, having to wait to release my photos on my social media until the release of the magazine. As a travel photographer, who usually documents while on the road, this is a massive personal challenge as my senses were in overdrive – I was bursting to share Northern Territory's best-kept secrets.
The journey was more intense than I expected. I had such a great time capturing every moment of the outback beauty and thrived off being surrounded by like-minded creatives and inspiring women who spent as much time saying "wow, this place is amazing" as me.
I had never even seen a dingo before. I was having a chat to some locals, who pointed one out, just sunbaking in the afternoon heat. It was a very casual almost natural encounter. I was very excited photographing the animal whereas he/she just sat there in complete peace.
I loved taking any chance to breathe in that sense of freedom along an open road too, the scenery like no other, with that breathtaking night-time Northern Territory chandelier.
One of my favourite shots, in fact, was the one capturing the star trail above the Marbles. I'll be honest, it was just a 'test shot' that went right. I was standing in the middle of the road and it was pitch black. The red glow you see lighting up the rocks was coming from the car's brake lights.
We also had plenty of real outback experiences: eating at the local pub, staying at the local inn, immersing into the art and culture, learning about the traditions of the people – all reasons I find travelling so interesting.
There were a few photo opportunities that I simply could not pass up, such as the one of the old man (with the Akubra on) who I met at an art centre. He told me he had never taken a day off in his whole life. His face was just so interesting and engaging – I just had to shoot his portrait. His face tells its own story.
Like every place I seem to visit I'm always itching to get back there before I leave. No time is long enough. If I could tell you one thing about the Devils Marbles, it's that visiting there makes you want to quit your structured life, buy a caravan and live every night there under those stars.
I might just do that… one day.
For more of Melissa'a photography, see  www.melissa-findley.com
Enjoy this article?
You can find it in Issue 59 along with
loads of other great stories and tips.