The top five short drives from Darwin and Alice Springs in the Northern Territory Northern Territory

1. Darwin To Litchfield National Park
Even though it's only 91km southwest of Darwin, Litchfield is in a world of its own and includes marvels like the Lost City (ornate blocks of weathered sandstone pillars), the cooling swimming holes at Wangi Falls (which are also conveniently wheelchair accessible), and the breathtaking views from popular Florence Falls and Buley Rockhole. There are few things better than setting up camp and falling asleep under the stars, all just two hours from the NT capital.
Along the way // There's plenty of jaw-snapping excitement to be found at Darwin's Crocodile Farm in Noonamah, home to more than 7000 crocs (and even some American alligators). And you can easily leave your worries at home as you float in the serene waters of Berry Springs while surrounded by lush woodlands. Drive through Rum Jungle (which became prominent after uranium was found there) before reaching the town of Batchelor, the stepping-off point for Litchfield. Before heading into the national park, the quirky Butterfly Farm in Batchelor is well worth a look for its wildly different colourful species. There's also a terrific feed (and no doubt some interesting local characters) to be found at the newly refurbed Rum Jungle Tavern.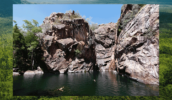 Did you know? // There's some speculation as to how Rum Jungle got its name. Some claim its because a local hotelier ran out of all liquor apart from rum, others cite a group that passed through drinking 80 gallons of it. Either way, the town was named after an incident involving excessive rum drinking. Very Australian.

2. Darwin to Jabiru
Jabiru, in the northeast corner of world famous Kakadu, is a tiny town known for mining, for its access to the national park, and for its absurdly wonderful crocodile-shaped hotel. Be sure to stop by its Bowali Visitor Centre to grab info on Kakadu's distinct habitats before travelling to one of the country's oldest Aboriginal quarry, cave and art sites at Nourlangie Rock. The Warradjan Aboriginal Culture Centre is also good to visit before heading to Ubirr, which is considered one of world's best showcases of ancient x-ray art. The panoramic views of Kakadu from atop Ubirr are also incredibly special, especially in the late afternoon light.
Along the way // Follow a nature trail through the parklands of the Howard Springs Nature Park to get yourself to the picnic area for a BBQ. Watch local Aboriginal artists at work making didgeridoos and weaving baskets and dillybags at The Didgeridoo Hut and Art Gallery. Get out your camera for spectacular pictures at Windows on the Wetlands at nearby Beatrice Hill or at the Fogg Dam Conservation Reserve. Take a cruise with Aboriginal tour guides along the East Alligator River, and for something a little closer, sunset cruises are also offered at Yellow Water Billabong, giving you a chance to get up close to the natural wildlife. Stay nearby at the Gagudju Lodge Cooinda before considering a drive further northeast towards Arnhem Land, a region famous for its strength and depth of Aboriginal culture.
Did you know? // According to Aboriginal Dreamtime, two creation ancestors who took the form of short-eared rock wallabies created Nourlangie Rock when they moved past it, cutting two gaps in the rock. These gaps remain visible today and rock wallabies are often seen in the area.

3. Darwin to Bamurru Plains
Built as a luxury safari campsite on a working buffalo station, Bamurru Plains is on the edge of the Mary River floodplains on the western boundary of Kakadu, three hours northeast of Darwin. If you're lucky, you might be able to capture some bull-catchers in action while you're there, or go fishing along the Sampan River, a Mecca for barramundi fishing and a great secret spot for jewfish. You'll also encounter plenty of wildlife through the wildlife safaris on offer, spotting all kinds of animals including wallaroos, dingoes and an array of reptiles.
Along the way // Take a Jumping Crocs Cruise along the Adelaide River, as you watch the crocs leap hungrily for food hanging from the boat. Pass through the small town of Humpty Doo, home to the iconic Boxing Croc, before trying your luck at catching a barra at either the Corroboree Billabong or Shady Camp while surrounded by woodland wildlife. Head to Mary River National Park, southeast from Darwin along the Arnhem Highway, and drop by the rustic and memorabilia-filled Bark Hut Inn for a bite before checking out their animal enclosure (and souvenir shop). For spectacular views of the sunset against the backdrop of the Mary River floodplains, drive to Couzen's Lookout. Spend a night at the Wildman Wilderness Resort, which is only accessible through the Brian Creek Monsoon Forest.
Did you know? // The town of Humpty Doo is thought to be named either for the slang for something that's all upside-down and turned around, or from "umdidu", an Aboriginal word meaning "popular resting place".

4. Darwin to Katherine
Often known as the Crossroads of the North, Katherine is a 3.5hr drive southeast of Darwin (318km) and is home to the delightful Katherine Hot Springs, as well as an interesting Outback Heritage Museum, among other worthy sights. A trip through the Territory Wildlife Park, made up of 400 hectares of natural bushlands, is a great local tour – as is a canoeing adventure down the sometimes-turbid waters of the Katherine River, before ending your day with a sunset dinner cruise down the Katherine Gorges.
Along the way // Southeast of Adelaide River, you can venture east off the Stuart Hwy for a cold beer at the Grove Hill Pub and on to Pine Creek, or choose west along the Douglas Daly scenic route and stop for a dip at Robin Falls. Tjuwaliyn (Douglas) Hot Springs, a protected part of the Douglas River, is also teeming with an array of birdlife and mammals from flying foxes to bandicoots. East along the 4WD-only Goldfield Loop will take you through Hayes Creek to check out some historic sites from WWII. Grab a bite at the Lazy Lizard Tavern at Pine Creek before heading on to wonderful Edith Falls at the northern end of Nitmiluk National Park. The walking tracks are terrific here, and built on the banks of Katherine River is Springvale Homestead, the Top End's first cattle station, which is still open to the public and welcomes daily visitors.
Did you know? // The Cutta Cutta Cave Nature Park just south of Katherine is home to two incredibly rare species of blind shrimp, as well as the near-extinct golden horseshoe bat.

5. Alice Springs and surrounds
Alice Springs, the unofficial capital of Australia's renowned Red Centre, is home to plenty of the country's history – and its surrounding towns and secret spots are all distinctly different from each other and represent a wealth of fascination.
Along the way // Uncover intriguing locations dotted within the West MacDonnell Ranges, like Emily Gap with its shallow pools and flocks of green budgerigars, Standley Chasm with its glowing red rock walls during the midday sun, Ellery Creek Big Hole with its interesting dolomite rock formations, and Simpsons Gap with its black-footed rock wallabies wandering about. Historic Hermannsburg, former Lutheran Mission and once the home of Aboriginal watercolour artist Albert Namatjira, is well worth visiting, as is Glen Helen Gorge with its wonderful bare-bones resort. Ormiston Gorge nearby is famously swimmable year-round, and the walking and photographic opportunities of Mt Sonder, Finke Gorge National Park and Palm Valley are without peer. Uluru is probably a stretch from Alice Springs for a "short break" holiday, so perhaps settle for the 142-million-year-old Gosse Bluff asteroid impact crater, west of Hermannsburg.
Did you know? // The Finke River is thought to be the oldest river in the world, with sections dating back as far as 300 million years. It's usually a long collection of disparate waterholes, except in rare times of flood.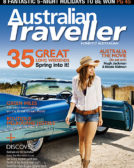 Enjoy this article?
You can find it in Issue 23 along with
loads of other great stories and tips.