Aboriginal experience – dancing, tea and damper, story telling
Hopefully by the time you've heard of the Morning Tea Ladies, one of Bathurst Island's most precious resources, it won't be too late. The Tiwi people have inhabited Bathurst and Melville Islands for more than 10,000 years and the Morning Tea Ladies have enjoyed their morning tea sessions for many generations. However, they're not training any further generations, and with no younger women to carry on the stories, time may be running out.
The Tiwi people are separated from mainland Aboriginals by more than the water North of Darwin: their culture, language, artwork and music is noticeably different; they don't have didgeridoos, but make music instead with clapping sticks, a sound you'll be sure to hear aplenty on your visit.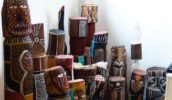 The Morning Tea Ladies gather over tea and damper to weave their intricate baskets and chatter about their cultures, but also to find out about the many cultures visitors bring to their circle. Take part in these animated conversations as you're cleansed of evil spirits, learn about Paleneri (Dreaming) Time, and watch each of the Tiwi peoples individual totem dances. A visit to Bathurst Island will leave you feeling connected to a new culture.
WHERE // Bathurst and Melville Islands are 80km north of Darwin in the Arafura Sea.
DID YOU KNOW? // Bathurst Island was the first part of Australian soil to be attacked in WWII, when the Japanese struck on February 19, 1942. Melville Island was also the site of the first captured Japanese prisoner of war, Sergeant Hajimi Toyoshima.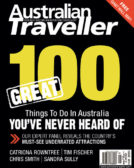 Enjoy this article?
You can find it in Issue 14 along with
loads of other great stories and tips.