Australian Traveller looks at The Longreach Loop, one of Australia's 10 Greatest Outback Journeys.
For many, Queensland conjures up sun-bleached beach stays beside crystal waters. Not this time. For this outback journey we're taking you through the heart of Matilda Country – known to tourism types as the Central West Adventure, but hopefully known forever more by a name we've just come up with, The Longreach Loop, which AT believes is far catchier.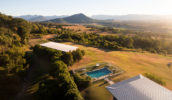 Heading northwest from Longreach, your leisurely 1450km outback circuit has just begun – and already, with Winton your first stop, you're bombarded with Australian heritage. Since this area is the widely accepted birthplace of the lyrics that gave voice to Australia's national pride in Banjo Paterson's "Waltzing Matilda" (as well as being the birthplace of a little outfit you may have heard of called Qantas), set aside at least two days to explore highlights like nearby Carisbrook Station, the Jolly Swagman under his coolibah tree across the road from the Waltzing Matilda Centre, and of course the remains of the world's only recorded dinosaur stampede, the 95-million-year-old fossils of which can be viewed at the Lark Quarry Dinosaur Trackways 120km southwest of town.
Tearing yourself away from Winton's rich history, next you'll head 362 dusty, dirty, bitumen kilometres west to the tiny town of Boulia. This part of your journey is actually along the easternmost section of the gargantuan Outback Way, which cuts through the centre of Australia all the way from Winton to Laverton in central WA – so if you feel like overshooting by a couple of thousand kilometres, go for it! If not, you might at least be fortunate enough between Warburton and Boulia to witness the Min Min lights, luminous balls that appear on occasion at nightfall before disappearing as mysteriously as they arrived.
Spend the morning in Boulia replenishing your pioneering knowledge by visiting the Stone House Museum in town or heading to the very river at which the ill-fated Burke and Wills filled their water bottles in 1861, before setting out further south for Bedourie, home of the famous Bedourie Camp Oven and a great jumping-off point for the excellent Diamantina National Park.
Next port of call is Birdsville, where it's finally time for that hard-earned beer (and where you might run into someone doing our Four States, Many Corners itinerary). The Birdsville Pub is as iconic to this area as kangaroos. Have a yarn with the locals on life in the outback and learn the secret spots to visit that Lonely Planet couldn't tell you about. A good idea is to time your visit for early September and the famous Birdsville Races, when the population of the quiet country town expands from around 100 to more than 6000.
A longish leg of 394km – largely unsealed – now awaits you on your journey via Farrars Creek (named in 1868 for local Diamantina Shire head stockman Jack Farrar) and on to Windorah. An Aboriginal word meaning "a place of large fish", Windorah is in the heart of Channel Country, just 35km downstream of the merging Barcoo and Thomson rivers. And with an assortment of freshwater catfish, yellow belly, bream and yabbies, the catch of the day could well be yours.
As final legs go, you've now arrived at the shinbone – that final stretch of dusty road that will mark the end of your epic journey. To postpone the inevitable, however, a short stopover at either Jundah or Stonehenge (or both, for that matter) is certainly in order. Named for the stone ruins of cattle drover huts, a day in Stonehenge 4WDing or lying about in the rock pools edged around by eerily white gum trees is a day more than well spent.
The end – and beginning – of your journey is, of course, Longreach, where you can listen in on a "school of the air" lesson, pay a visit to the Stockman's Hall of Fame or ride a horse-drawn cart at full gallop in real Cobb & Co tradition. And for more info on this absolute gem of an outback destination, click here.
Who got there first? // Charles Sturt explored the Birdsville area in 1845, legendary Prussian explorer Ludwig Leichhardt passed through Winton in 1848, and Burke and Wills passed closer to Boulia in 1861. }Don't miss // A quenching drink at the Middleton Hotel, built in 1876 midway between Winton and Boulia. One of the most isolated pubs in Qld, it was named for a team member of John McKinlay's 1862 expedition. }Drive Time // The Longreach Loop (aka Central West Adventure) is around 1450km, and takes anywhere from one week to 14 days to complete comfortably.
Dos + Don'ts
1. Don't leave town without a supply of water and a full tank of petrol, especially in the Simpson Desert.
2. Camping permits are necessary when camping in the Simpson Desert and many national parks, so check signs carefully.
3. Do consider the Spirit of the Outback train if you want a break from driving – you can even take your car on board.
4. Don't underestimate the vast distances of any Qld journey (eg: it's only slightly longer from Brisbane to Melbourne as it is from Brisbane to Cairns!)
5. If you're lost or broken down, stay with your vehicle. Missing cars are easier to locate than missing people.
Accessibility // Not too many off-road difficulties for this leisurely loop, other than the occasional unsealed road – but of course a far more serious 4WD challenge if you wish to venture west from Birdsville into red dune territory.
Did you know? // Because of the devastating outbreak of equine flu, the 2007 Birdsville Races were cancelled for the first time in peacetime in its 126-year history. In 2008, the famous meet is scheduled for September 5 and 6 (www.birdsvilleraces.com), and a great and easy way to attend is via organised coach tours direct from Brisbane (www.tripstobirdsville.com).
More info // Visit www.adventureoutback.com.au for more maps and daily itineraries.
Sidetracks // The Longreach Loop
1. The Simpson Desert // These rolling dunes span more than a million hectares – and make for one heck of a sidetrack. Veer west from Birdsville where, if you're lucky, wildflowers are plentiful after big rains.
2. Walkabout Creek Pub // Head northeast from Winton along the Matilda Hwy to McKinlay to find the iconic pub that served as Mick Dundee's watering hole in Crocodile Dundee.
3. Cooper Creek // Hunt for the spot where, 140 years ago, William Brahe directed Burke and Wills to their food supplies at the famous Dig Tree. Named by Charles Sturt in 1845, Cooper Creek once formed the boundary for Europeans between the explored and unexplored lands.
4. Diamantina Lakes NP // A day trip from Bedourie, this is a shelter for rare animals, 180 species of birds, great fishing spots and a vast look at the expanse of Australia's scenery and wildlife. Overnight camping permitted.
5. Toobrack Station // Just 70km southwest of Longreach, this working sheep station is a century-old museum to early pioneering days.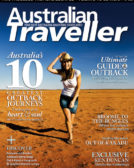 Enjoy this article?
You can find it in Issue 21 along with
loads of other great stories and tips.