AT Reader Jade Morcom-Phoenix from Mullumbimby explores the unusual Stanthorpe, southwest Qld surrounded by national parks, wineries and the peculiar terrain of the Granite Belt. As I drive into the bustling inland town of Stanthorpe, I'm surrounded by tree-lined streets glowing orange in the warm autumn light. I'm drawn to the town's character, its blend of heritage buildings, modern facilities and a sense of warm country hospitality.
All I know of the area are fading childhood memories of family holidays past. Eager to immerse myself into all the region has to offer, I begin my country getaway with enthusiasm.
Stanthorpe is around 220km southwest of Brisbane, virtually on the Qld/NSW border, and hasn't yet made it onto the mainstream tourist maps. I'm puzzled as to why this would be, since the region abounds with its own unique blend of fine wines, gourmet produce, Australian heritage and spectacular national parks.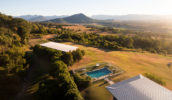 My exploration of the region begins with Girraween National Park, just south of Stanthorpe, where for just $4.50 a night I set up my tent and camp stove. This will be home for the next three days. There are plenty of cottage spa retreats, guesthouses, hotels, cabins and budget motels in the area, but I've chosen to get back to nature, away from everything that's familiar in the hustle and bustle of my everyday life.
Girraween National Park is mostly made up of fascinating eucalypt forests, interrupted sporadically by large granite domes and boulders. Bushwalking is the main order of the day here, with trails varying in length from 600m to 7.5km. Many of these lead to the top of granite outcrops with breathtaking views and precariously balanced boulders.
On my first day, I rise at dawn, pack my water bottle and muesli bars and set off to "the junction", where Bald Rock Creek meets Ramsay Creek. The beautiful granite slabs with water rushing over their surface are a spectacular early morning sight. On my way back to camp I do the quick 800m circuit through to Granite Arch, where three massive boulders have formed a giant, over-connected archway on the path.
After my morning of exercise I take a more relaxed approach to the afternoon with a visit to the Aloomba Lavender Farm in Stanthorpe for afternoon tea and a self-pampering of handmade lavender products.
A quiet stroll through Stanthorpe's memorial park and a visit to the pond to watch the many species of duck frolic is the perfect end to my day.
The next morning starts much like the last with a sturdy hike, this time to the top of The Pyramid, a 3.4km return trip. I set out feeling confident with my level of fitness. Passing wetlands, rocky outcrops and eucalypt forests, I soak in my surrounds and don't even notice I've reached the base of the climb. The ascent of exposed rock face is steep and tiring, making me wonder whether I'm as fit as I first thought.
If the climb didn't take my breath away though, the views of Balancing Rock, the Second Pyramid and out over the national park certainly did.
After such an exhausting yet highly rewarding morning, I head out to Jester Hill Wines for lunch in their adjoining restaurant. Set among the rugged rocks on the edge of the granite belt wine region, Stanthorpe's boutique vineyards produce mainly European-style wines, due to the high altitude and long growing season.
I decide to devote day three entirely to the vineyards, which is an experience that's hard to forget; I'm not only greeted with warm country hospitality but superb wines and liqueurs. As I manoeuvre my way
up the dirt driveway of Granite Belt Highlands Winery, two farmers spot me from the edge of the property and come bouncing over in their Ute to meet me at the door.
As I sit there chatting away with the farmer and his mother, sipping on wines and nibbling on a free cheese platter, I realise I'm not just talking to the man who grew the ingredients, but also to the person responsible for making both the wines and liqueur.
Back at camp, I sink back into my foldout chair with a full-bodied sauvignon blanc and listen to the birds celebrating the end of another glorious day. I'm struck with a thought: I've just experienced a holiday of real contrasts.
For an intimate weekend getaway or an all-in family adventure, Stanthorpe and the granite belt are must-visit locations. With the area's vast variety of activities, it's a chance to lose yourself in the country air, absorb the gorgeous surrounds and indulge in the fantastic wines and produce.