Food festivals and photographic renegades are just the beginning, with a winter of events just warming up in the river city.
1. EXHIBITION – Cindy Sherman: Queensland Gallery of Modern Art (GOMA), 28 May – 3 October
Who is Cindy Sherman? Is she a society darling? Hollywood heroine? Or just a clown? Renowned for her chameleon-like photographic studies on gender and society's obsession with celebrity,
Sherman is in fact one of the most influential artists to emerge from New York's 'Pictures' generation of the late 1970s.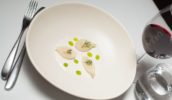 This exhibition of her large-scale photographs, playing with GOMA's architectural form, is the first in Australia since 2000.
Explore Cindy Sherman Up Late on Friday evenings during the season, and enjoy a dose of culture served with pop-up bars and live music. qagoma.qld.gov.au
2. FESTIVAL – Eat Local Week: Scenic Rim, 25 June – 3 July
Scenic Rim Eat Local Week has a simple ethos: to celebrate the bounty of produce available on your doorstep.
For anyone who's ever wondered how 'rainforest caviar' is grown, or what it takes to produce a bottle of your favourite microbrew beer, jump in the car and head into Brisbane's surrounding food bowl.
Tickets to the signature event, the Winter Harvest Festival in Aratula on Saturday 2 July, are hotly contested.
Cooking demonstrations and food stalls are paired with a tractor-pulling competition, live music, and the chance to mingle with the farmers who keep the hills alive by growing carrots, avocados, rhubarb and more. eatlocalweek.com.au
3. FESTIVAL – Abbey Medieval Festival: Abbey Museum, Caboolture, 9–10 July
If Game of Thrones doesn't deserve its own kind of cosplay, we don't know why.
The Abbey Medieval Festival has firmly embraced that particular niche, providing a day of medieval magic for those who fancy a bit of Turkish oil wrestling and knights in shining armour.
Step back in time to sit around the gypsy encampment, watch swordsmiths wield their archaic tools, cheer on the jousting, hold a bird of prey, and throw back mead like it's 1499. abbeymedievalfestival.com
4. MUSICAL – We Will Rock You: Lyric Theatre, Queensland Performing Arts Centre (QPAC), From 10 July
The foot stomping and hand clapping of Queen's anthem We Will Rock You needs no introduction, but if you haven't seen the live musical theatre version, set to the score of the band's greatest hits and story by Ben Elton, get yourself to QPAC this winter.
This crowd-pulling musical became the longest-running production at London's Dominion Theatre, closing only in 2014. qpac.com.au
5. FESTIVAL – Regional Flavours: South Bank Parklands, 16–17 July
Within Queensland's borders there is an abundance of produce to make even the highest-calibre chef's head spin, and this is the weekend it all comes to the CBD.
For two days, the South Bank Parklands come alive with the sound of chopping, whizzing, searing and the chinking of glasses as the likes of Maggie Beer, Adriano Zumbo, Matt Preston and Paul West from River Cottage Australia give free cooking demonstrations and discussions.
Alongside them, over 80 stallholders offer up their epicurean delights to over 85,000 hungry visitors.
Take a picnic blanket, arrive early, and get set up for a day of foraging and feasting, city-style. regionalflavours.com.au
6. BALLET – Queensland Ballet: Lest we forget, Playhouse, Queensland Performing Arts Centre (QPAC), 29 July – 6 August
Three of the best choreographers in the ballet world tackle the highly emotive and intricately layered themes of war, taking a looking glass to the bittersweet contradictions of high spirits and farewells, the intensification of human relationships, and personal stories of fear, pride, bravery and dignity. queenslandballet.com.au
7. CARNIVAL – Royal Queensland Show (EKKA): Brisbane Showgrounds, 5–14 August
What attracts 400,000 visitors, has 330 different showbag options, and includes 10,000 animals (along with 16 tonnes of manure to be removed from the grounds afterwards)?
Brisbane's Royal Queensland Show – The Ekka – has been part of the Brisbane experience for 139 years.
Watch the whip-cracking and wood-chopping, cast a discerning eye over the baking competition and watch show dogs strut their stuff.
Then, get dizzy in Sideshow Alley, grab an iconic strawberry sundae (which made its debut in 1950 and has been on the must-do list for visitors ever since), before ending the night with fireworks. ekka.com.au
8. THEATRE – Queensland Theatre Company: St Mary's In Exile, Bille Brown Studio, 27 August – 28 September
Drawing from the true story of beloved priest Father Peter Kennedy being ousted from St Mary's in South Brisbane in 2009, for what was seen as his overly open-minded ways (women in the pulpit?
Never!), this play by David Burton peels back the layers of the unconventional holy man and his defiance of the Catholic Church. queenslandtheatre.com.au
9. FITNESS – The Sunday Mail Suncorp Bank Bridge to Brisbane: Sir Leo Hielscher Bridge, 28 August
See the best of the city while going for a personal best, during the Bridge to Brisbane fun run, crossing three of the city's iconic bridges.
Celebrating its 20th year in 2016, a five-kilometre option has been added along with the 10-kilometre course, with post-run celebrations along South Bank's Little Stanley Street. bridgetobrisbaneday.com.au
10. ARTS – Brisbane Festival: Various venues, 3–24 September
Soak up three weeks of arts and culture across the city's arts precincts, galleries and theatres, watch bands and comedians over cocktails in the Spiegeltent, and stake out a spot early to watch pyrotechnics extravaganza, Riverfire, light up the capital.
This year, Snow White will own the spotlight with performances ranging across theatre, ballet and film set to musical accompaniment. brisbanefestival.com.au