A reader review of the Storey Bridge climb in Brisbane, Australia by a reader of Australian Traveller Magazine
AT reader Helen Moye loves a good Story . . .
I dreamt I was late and they wanted to charge me an exorbitant sum for the inconvenience. They wouldn't be swayed. Fortunately, the force of the disagreement woke me up. I looked at the clock and was glad I had: 3.46am. I was due at the corner of Main and Wharf Streets, Kangaroo Point, in 39 minutes.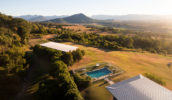 Not much traffic on the freeway, and I arrived early. Outside, parking in a dark street in the predawn (behind a black vehicle advertising something Brazilian), I felt like a furtive leftover from the night before. The bloke across the road, wearily trying to gain entry into the apartment complex there, looked like one.
Inside, however, in the modern, square, grey building one block along from the Story Bridge Hotel, there was light and life. A cheery greeting from the young man behind the desk; then progressively, the rest of the early risers arrived – to redeem (like me) their birthday gifts, to celebrate an anniversary, to cross another task off that list of essential hometown adventures.
After a brief wander through the bright store of souvenirs I'd be tempted to buy once I'd earned the right, our guide arrived. Ashleigh is one of the most experienced group leaders on the Story Bridge Adventure Climb. She took us through the safety and equipment briefing professionally and confidently, although a couple of those assembled were initially not so confident. Like a tight, grey-and-blue line of boiler-suited caterpillars, we each attached our neighbour's radio receiver (through which Ashleigh would communicate with us and provide commentary during the climb) and finalised other necessary connections of equipment. Nothing could be loose, not even handkerchiefs – we had our fellow bridge-goers below (pedestrian and vehicular), as well as ourselves to protect. Our personal lifelines for the duration of the climb would be a belted harness and slim metal wire attached to a static line. I remembered fleetingly from years ago a friend's dog, which had sprung over a railing while still tied to it and hung there for moments before being rescued. Fortunately, the image passed.
It was still dark when we left from the rear of the building, headlamps on, conscious of the nearby sleeping residents and the need to curtail conversation and clinking paraphernalia. As the first on the bridge for the day, we were a subdued group climbing slowly out from underneath the structure, then upward along the eastern cantilever arm – in time with the emerging sun. That's what we'd come for – to be there, on top of the bridge, on top of Brisbane at dawn. And there to meet us were two butcher birds, happily flitting about, singing, at 80m above the river. It was a nice touch – very relaxed, very Brisbane.
We had time for photos, reflection and review of the vista. We took the opportunity to chat with others in the group, now that we were safely there, any fear suitably quelled and confidence established. Here was the city and its surrounds in 360° panavision – from the Glasshouse Mountains to Moreton Bay to Mt Coot-tha and beyond; from the humble John Burke Park below, through which walkers and cyclists were starting to emerge on one side of the river, to the high-rises of the CBD on the other, where the presence of lights through some tinted windows created the terrible suspicion of captive lawyers working late (or early) on this Sunday morning.
This didn't trouble me as it might once have done – when, for a time, I did time in a couple of those glossy buildings. Now I was standing 22 storeys up wearing an overall – not a high heel or corporate suit in sight – and I could safely look the Big End of town in the eye from across the water, from above the water, without feeling compelled to pretend I could walk on it as well.
From south of the city, two hot air balloons advanced on us at a leisurely weekend pace. They provided a novel addition to the backdrop of steel and skyscrapers in our "summit" photos. Finally, one sailed low right over us as our group stood spread out along the viewing platform. We waved and exchanged greetings and congratulations with our airborne fellow adventurers; and a couple of us decided that ballooning might be an appropriate next challenge.
By this time the traffic was building – hot air balloons and planes above, CityCats and ferries mixing it with kayaks below. And in between a flashing fire engine, cars, trucks and cyclists joined by joggers and walkers in casual pairs or groups of more business-like determination. And one wobbly individual, caught out by the daylight, negotiating the confusingly straight, flat option of the standard pedestrian path across the bridge.
We proceeded back along the western arm towards our starting point, pleased and satisfied – and ready to smile encouragingly at the two new parties we passed as they departed terra firma, all the better to look at it and appreciate it. Our own appreciation was reflected in a momentary unsteadiness in our legs as we re-emerged from the suspended walkway under the bridge onto cement and dirt, and faced the happy prospect of a hot breakfast.
Back in the building, the business day had well and truly begun. A further two groups were being kitted out and briefed as we changed out of uniform and back into ourselves, completed our feedback forms (Service – super; Guide – great; Experience – excellent), and surveyed the photographic evidence of our early morning excursion.
So that was the Story Bridge Adventure Climb. Three hours well spent. Now there's just that one in Sydney, and another in Auckland. Even talk of a similar project for Brooklyn, New York. That's okay – I can do it. There's no bridge too far.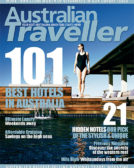 Enjoy this article?
You can find it in Issue 9 along with
loads of other great stories and tips.