There's nothing quite like getting the lay of the land by merit of your own two feet. With its compact city centre and abundance of bridges and boardwalks, Brisbane is the kind of capital where you can do just that with the help of the humble ferry.
Whether you prefer to go your own way or let someone else take the lead, there are plenty of ways to navigate Brisbane's rambling river loop-de-loops.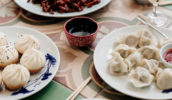 Option 1: A solo endeavour
The Queensland Maritime Museum marks your launch point for a scenic round-trip excursion of inner-city Brisbane.
Lace up your comfiest walking shoes or grab a CityCycle from the station on Sidon Street and make your way across the pedestrian-only Goodwill Bridge, connecting South Bank and Gardens Point.
At its crest, the bridge offers a magnificent panorama of Brisbane's riverbanks, taking in iconic features from the Wheel of Brisbane to the heritage-listed Treasury Casino & Hotel.
The Goodwill Bridge will drop you right at the City Botanic Gardens – Brisbane's oldest – where you'll want to keep the river on your right as the Gardens' path links up with the City Reach Boardwalk.
At this point, you might choose to return your CityCycle to the station at the corner of Alice and Edward Streets.
If you're in need of a pit stop, plonk down at a picnic table at Matt Moran's Riverbar & Kitchen for a quick feed, or choose one of the many Eagle Street eateries, from sit-down affairs like Pony Dining to casual flings such as Churburger.
Once you're fuelled up, continue along the boardwalk with the Story Bridge in your sights, strolling under the towering steel marvel and onto the New Farm Riverwalk.
As you amble above the water – the path was successfully re-floated after being wiped out in the 2011 floods – take a gander at the prime real estate that trims New Farm on your left and Kangaroo Point to the right.
Don't forget to glance back over your shoulder for a money-shot of the Story Bridge and CBD.
When the Riverwalk winds up, it's up to you whether you make a quick exit to the Sydney Street ferry wharf, or continue through leafy suburbia around the river bend to the grandest of green spaces, New Farm Park.
Either way, a CityCat will be there for the return leg of your journey.
Option 2: Meet the greeters
Who doesn't want to experience a city like a local?
They know where the best baristas are based, which laneways to wander down, and the extraordinary stories behind ageing facades.
Brisbane Greeters is a network of passionate ambassadors who run walking tours of the River City with a personal touch.
The initiative, born in New York in the early '90s, has been a headline feature in Brissie for just over four years now; they've even added shiny new CityCycle Greets for tours on two wheels.
Opt for a Greeter's Choice tour if you're not sure where to start; your personal tour guide will plan an excursion based around their expert recommendations, encompassing everything from history to art, music, politics and, of course, food.
If you're a particularly keen foodie or art connoisseur, you may want to opt for a Your Choice program. With a week's notice, you'll get a morning or afternoon rendezvous tailored to your discerning tastes.
Keen to venture beyond the city? You can always join a Quandamooka Greet, to explore the region's unique indigenous heritage with Dreamtime-inspired walks around the Wynnum–Manly foreshore out on the bayside.
A Brisbane Greeters experience can last up to four hours and is totally free, but bookings are a must.
Tours kick off from Brisbane City Hall at 10am and from the Manly Visitor Information Centre at 10.30am daily.
*A note about CityCycle: If you're planning to use the CityCycle bike hire scheme you'll need to sign up for an account (daily for $2 or $11 for a week). Rides under 30 minutes are free as long as you return the bike to one of the 150 stations around town, and riders must be 17 years or older.