How to get here
Interstaters can fly in to Brisbane or Coolangatta airports and rent a car. Take the Pacific Motorway south from Brisbane or north from Coolangatta. There are great scenic drives around this area so it's advisable to have the freedom of your own transport. Alternatively, Tamborine Mountain Tours offers shuttle-bus transfers from the Gold Coast for $20 per person each way, as well as guided day tours from $120 per person, including lunch.
WHY IS TAMBORINE MOUNTAIN SO GREAT?
Affectionately known as 'the Green Behind the Gold', Tamborine Mountain has a wonderful mix of activity and relaxation. It offers seclusion rather than isolation, and comfort without the fear of boredom that you might expect from a cutesy mountain town. The appeal of Tamborine Mountain is that it is not a gimmicky tourist destination but an authentic hinterland community – Gold Coast and Brissie locals often take day trips here. This quality permeates the entire mountain. It's modern, yet it feels like the forest has grown to embrace the town. Everything just chugs along quietly, but there's always something to do. And best of all, visitors can enjoy the experience on any budget.

TAMBORINE MOUNTAIN: THEN
Queensland's first National Park was established here in 1907. Which sounds impressive until you discover why: the area
was deemed "unfit for any other purpose". Apparently the natural assets of the region weren't as valued then as they are now. Volcanic plateaus cover 28 square kilometres, featuring a plethora of unique flora and fauna, native bush, waterfalls, rock pools and other gems (literally, in the case of thunder eggs). Fortunately, the residents didn't share the same view as the government, and while agriculture expanded into surrounding regions, great tracts of forest were left unspoilt.
TAMBORINE  MOUNTAIN: NOW
Recently the untainted rainforests around here have attracted special visitors. The pilot episode and some of the first season of Terra Nova, Steven Spielberg's new television miniseries, was filmed here. It's the perfect location, as the show is set in prehistoric times. While the production has been riddled with setbacks, such as departing writers and pushed-back premier dates, it looks set to hit TV screens in the US this October (Australia to follow). Go to ten.com/terranova for more info, or go to youtube.com to check out the trailer.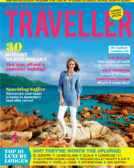 Enjoy this article?
You can find it in Issue 41 along with
loads of other great stories and tips.