Known as the final frontier of the Great Barrier Reef, the Far Northern reef systems offer mile upon mile of unexplored paradise. Amanda Obara discovers this distant seascape aboard research vessel Undersea Explorer.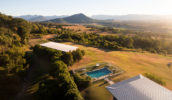 FAR NORTH GBR

From the air, rainforest, coastal waterways and uninhabited bush stretch as far as the eye can see. During the 40min flight from Cairns to Lockhart River, reef after reef whet the diver's appetite and the Coral Sea unfurls in an inviting shade of blue.
When we land at Cape York, friendly locals help transfer ten days of supplies to the boat. An Aboriginal sign that reads "Do not cut turtles on the main beach" serves as an abrupt welcome to the isolated community.
Once onboard the Undersea Explorer we head north to Mantis Reef. There, adaptive coral has formed huge mushroom-shaped heads, home to hundreds of colourful fish. A school of metre-long, bump-headed parrot fish with comically oversized beaks adds to the surreal landscape. Nearby, on the edge of the continental shelf, silver-tipped reef sharks dart back and forth in sharp, streamlined motions: welcome to Silver City.
At the giant coral swim-through of "Tuna Tunnel" we pass lionfish, cod and a moray eel. On the outer wall large pelagics, tuna, mackerel and giant trevally approach curiously, eyeballing at close range before fading into the azure.
Bright sun, a pod of dolphins and a pungent aroma greet the vessel near the coral cay of Raine Island. As the largest green turtle rookery in the world, and the most significant tropical seabird nesting site, Raine is Australia's most protected natural space. Here up to 20,000 turtles can be seen on the cay in a single night. The turtles, which mature at between 30 and 40 years, have travelled up to 2500km to drag their 150kg bodies onshore to nest. When magnified underwater, their 1.4m prehistoric forms create obscure silhouettes. We dive carefully as the turtles are exhausted and need all their energy to survive the gruelling nesting process.
While we dive, our enigmatic shark researcher Richard Fitzpatrick heads out to catch a tiger. Normally solitary and elusive, tiger sharks surround the island during peak turtle nesting times, and through binoculars we see a large fin cut the surface, slowly circling bait set beside Richard's dinghy. If successful, he'll tag, release and monitor the shark's movements. Overfishing has left tiger sharks, and other species, extremely vulnerable. Recent advances in satellite technology allow biologists like Richard to collect data on home range and migration patterns for shark conservation.
Using a barbless claw, Richard secures the 3.17m shark by the tail and gently brings her back to the dive boat. He names her Bess as the crew helps implant a "pinger" (designed to collect data on daily movements) near a dorsal fin. Then Bess is untied and guided safely back into depth. Information gathered in the next few months will help solve many of the mysteries surrounding the apex predator.
As we head down Ribbon Reefs to Port Douglas I think about the trip. While much of the diving was incredible, other sites were baron, a stark reminder of humanity's affect on even the most remote reef systems. Guests onboard Undersea Explorer are encouraged to participate in marine research projects, an opportunity which makes each trip a unique, exciting and stimulating adventure. Visitors who join Undersea this year will dive the HMS Pandora wreck site, historically connected to the world's most famous mutiny at sea, and watch archaeologists as they inspect some of the 37 ships wrecked around Raine Island, Wreck Bay and Cockburn Reef.
More info on shark tracking and Bess the tiger shark can be found at www.sharkresearch.com. The far northern sector of the Great Barrier Reef marine park starts north of Lizard Island and extends north almost 700km to Papua New Guinea. The region is only accessible October to December aboard live-aboard vessels varying between seven-, ten- and 14-days trips. For a full list of the dive vessels visiting the far northern Great Barrier Reef, check out www.splashaustralia.com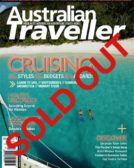 Enjoy this article?
You can find it in Issue 15 along with
loads of other great stories and tips.