AT reader, Sharon Higson, reveals her favourite holiday destination; a humble campsite tucked away in Queensland's Great Sandy National Park.
What's not to love about driving on the sand in your 4WD as waves lap the shoreline, with the car stereo cranking and the Queensland sun shining? This is just one of many simple pleasures enjoyed on the way Freshwater campground.
Located 35 kilometres north of the Tewantin ferry (near Noosa), amidst the Cooloola section of the Great Sandy National Park, Freshwater campground is quite a remote place, but being so out of the way is part of the appeal.
Positioned amongst a Scribbly Gum forest, Freshwater has all the basic amenities needed by a camper; flushing toilets, hot showers (bring $1 coins), water (you will have to boil it to drink it) and garbage bins so you can keep yourself and your campsite clean.
Sitting underneath the shaded canopy is truly peaceful, enabling you to free yourself from the stresses of everyday life, something we all need to do occasionally. It's so relaxing just sitting back and listening to leaves rustling in the breeze, while birds play overhead and goannas tromp through the underbrush.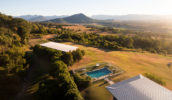 There are several sites available, for travelling couples to large groups. Either way, you'll need to contact the Department of Environment Resource Management and arrange camping and driving permits.
While the ocean roars in the distance, Freshwater beach is a 500-metre walk away along a forested path. There you can swim, fish, play cricket, walk the shoreline or drive eight kilometres north along the beach to Double Island Point lighthouse.
However before heading north, be sure to check tidal charts to make sure there is ample room for moving vehicles on the beach and read up on how to drive on sand because it can get boggy in places when there has been lots of traffic, especially at the entrances to the tracks.
Once you arrive at Double Island Point, you'll need to park the 4WD at the bottom and walk up a path but the view from the top is spectacular, taking in the coloured sands of Rainbow beach on the other side, another destination not to be missed.
The lighthouse on Double Island Point was established in 1884 and its light can be seen from the beach, as well as 26 nautical miles (48.1 kilometres) out to sea. Solar panels feed it energy and the visitor centre inside is open every day from 10:00am to midday.
I suggest sitting at the top and watching for passing dolphins, turtles and even migrating whales between July and November. If you're a painter, writer, photographer or just want to while away a couple of hours, this truly is a magnificent spot.
Back on Freshwater beach, there are two trucks that traverse the sandy shore on a daily basis – one truck sells ice cream while the other offers ice. In terms of convenience to beach-goers, it doesn't get much better than this.
So with a little driving know-how and a short drive north of Brisbane, you can escape the day-to-day hustle and bustle and get back to basics in an idyllic beach-side location. It's certainly worth the drive to find Freshwater!